Research
Combining History and Faith to Pursue Social Justice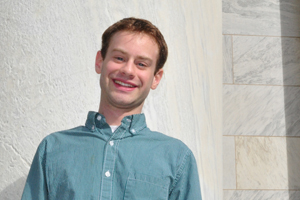 Kurt Karandy knows the meaning of social justice. A senior majoring in history, Karandy has served on the General Board of Church and Society for the United Methodist Church since his sophomore year at AU. He was elected to the board because of his social activism at AU and his previous service as a delegate to the organization's General Conference, representing his hometown of Liverpool, New York.
"Social justice goes back to our [the Methodist community's] founding," says Karandy. "You can have personal piety, but you also need to live that out and create systems that are just and not oppressive." Karandy cites the work the United Methodist community has done on behalf of a single-payer healthcare system as this kind of advocacy. "We have a long tradition of living out our faith."
Karandy has also been active with AU's United Methodist Association. During his sophomore year when the university's contract with Coca-Cola was up for renewal, Karandy led a campaign to get AU to join several other universities in boycotting Coke due to its labor, environmental, and human rights violations. "While the contract was ultimately renewed, we were still able to start a dialogue and spread awareness for this issue," says Karandy.
On the Board of Church and Society, Karandy serves as chair of the Education and Leadership Formation Committee, which oversees the United Methodist staff around the country, and  runs the Church's advocacy and leadership education programs in DC. "On one hand we are engaged in policy advocacy," says Karandy. "But we also bring young adults to DC to teach them about where the United Methodist community stands on issues and demonstrate that we are a presence in Washington."
Karandy's work with social action has influenced his academic career as well. In 2010, he received the history department's Dorothy Gondos Beers award, which is awarded annually to an outstanding history student.  He also earned a College of Arts and Sciences Dean's Summer Research grant to conduct research for his senior thesis. His thesis explores how white Protestant churches in DC responded to Jim Crow segregation in American society at the turn of the twentieth century.
"In the time of Jim Crow laws, religion [in white churches] was used as a way to talk about whiteness," says Karandy. "There wasn't a statement for or against Jim Crow from the white churches. They were silent."
Karandy cites the example of a Sunday school convention in Washington, DC in 1910 in which black students were barred from participating in events such as a parade. "White northerners were angry and the black churches were furious," says Karandy. "The people who had come from all over the world were disappointed by the lack of Christian brotherhood and solidarity. Yet, there was little response from white Washingtonians. No defense. No apology."
Karandy says his time at AU has played a large role in making him an advocate for social justice. "When I first came here I realized that I didn't really know what I was talking about when it came to a lot of things," says Karandy in reference to a discussion he once had about LGBT tolerance in white and black churches. "I realized that many of my views were colored with white supremacy…I learned more about African-American history in order to dismantle that and then acquired a toolkit to study race more broadly."
After graduation, Karandy plans to pursue a PhD in history and a career as a professor, while still continuing his research in whiteness studies and American religious history. "Whiteness is largely unmarked in society," says Karandy. "We see a white man and we just say 'there's a man.' Whiteness studies is about marking that presence. [It] is advocacy based. It's about understanding white privilege so we can analyze it, critique it, and challenge it."