Humanities
Q&A with Literature Professor Kyle Dargan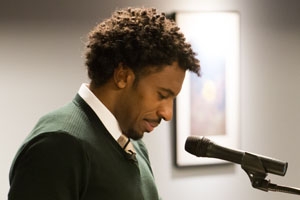 Kyle G. Dargan is a professor of creative writing in the Department of Literature. He is the author of three collections of poetry published by the University of Georgia Press, most recently Logorrhea Dementia: A Self-Diagnosis (2010). His debut work, The Listening (2004), won the Cave Canem Prize, and his second, Bouquet of Hungers (2007), won the Hurston/Wright Legacy Award for poetry. Dargan's work has appeared in Callaloo, Denver Quarterly, jubilat, Newark's Star-Ledger, Ploughshares, Shenandoah, and theroot.com. He is the founding editor of Post No Ills magazine and postnoills.com and recently served as managing editor of Callaloo. 
In addition to writing and teaching at AU, Dargan has partnered with the President's Committee on the Arts and Humanities to produce poetry programming at the White House and Library of Congress. He runs poetry workshops for DC high school students in conjunction with 826DC, a nonprofit organization that supports young writers ages 6 to 18 and their teachers. He recently returned from a two-month trip to China as a guest of the Chinese Writers Association. 
Are you working on any new projects? 
My new poetry collection [Honest Engine] will be published in [March 2015], and I am working on another book-length project, Panzer Herz, which is a personal exploration and deconstruction of contemporary masculinity. I'm also editing an anthology with Wondaland [Arts Society] producer Chuck Lightning [Charles Joseph II] titled I Have a Scream: An Imagination Proclamation, which we envision to be a post-Obama snapshot of the cultural and sociopolitical zeitgeist.

Can you tell us a little about your writing process?
I jokingly tell people that being a poet means I notice stuff for a living. To write is to first see or hear some element of the world and then attempt to render it with language, be that in a realist or fantastical manner. So the most important aspect of my writing process is the seeing; after that, there's just a lot of tinkering and questioning what, aesthetically, the piece of writing needs in relation to its subject. 
Do you think DC is a good place for poets and poetry?
Any place is a good place for poetry—especially the places where free voices are repressed. These are the places where poetry's disregard for the status quo is needed. DC has a great poetry infrastructure—the Library of Congress and the poet laureate, the Folger Shakespeare Library, etc.—but it is important that we do not allow those major institutions to overshadow all the ground-level poetry activity that (in the best sense) agitates this town. 
What is the best part of teaching creative writing? 
Creative writing is a pedagogically pleasing discipline. In a creative writing class, we are all studying the ideas and experiences students bring to the class as well as their ability to frame and communicate them creatively, so being privy to that self-discovery and artistic evolution is always rewarding. Every student is different, and they all can't be pushed with the same intensity. It is a delicate dynamic.