Social Sciences
New Women's, Gender, and Sexuality Studies Director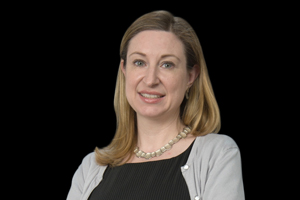 The College of Arts and Sciences announced the appointment of Philosophy and Religion Assistant Professor Lauren Weis, as director of the Women's, Gender, and Sexuality Program (WGSS). WGSS, an interdisciplinary program encompassing feminist studies, masculinity studies, and sexuality studies, offers an undergraduate major and minor, and a graduate certificate through a multicultural curriculum that sustains and integrates diverse perspectives.
Weis joined the Department of Philosophy and Religion in 2008 and has taught courses in moral philosophy, metaphysics, epistemology and professional ethics, as well as feminist philosophy, feminist theology, and embodiment. She graduated cum laude from Salisbury University before going on to earn an MA in philosophy at the University of Memphis and PhD from Boston College. "I was first exposed to feminism in college, and my interest in feminist studies of gender and sexuality really bloomed when I discovered feminist theory. I am most passionate about demonstrating that theory and practice, philosophy and activism, are deeply compatible" says Weis.
Weis researches the intersections of feminist theory and philosophy; she is particularly interested in philosophical questions about the capacities of human knowledge and the structures of the natural world and human society. Weis explores how feminist philosophy criticizes the tendency of human civilizations to accept that some human beings deserve less respect, opportunity, or fair treatment because of the qualities and characteristics of their bodies. She reveals how serious moral problems, such as violence and oppression, result when theorists act on such beliefs. Weis' work ultimately exposes how Western philosophical thinking supports sexist and biased social and political structures and elucidates how such biased beliefs can be changed in order to create human societies that value and embrace human difference.
Weis frames her responsibilities as director of WGSS within a history of feminist scholarship at AU, "As director of WGSS, my goal will be to build on a tradition of interdisciplinary feminist leadership at AU in order to enlarge the space and resources for cross-disciplinary scholarly collaborations among students and faculty. WGSS students and faculty lead the university in fostering scholar-activism, as well as civic and community engagement, and I look forward to developing initiatives that support this important work."
She claims that "My main role as director will be to inspire enthusiasm about WGSS, communicate our activities to the community, and cultivate the participation of students, faculty and alumni. One way we're reaching out to the community is through our new Facebook page."
Weis will assume her new position in August from long time WGSS director Gay Young and is enthusiastic about the future prospects of the program. She says "I hope to see the program continue to grow and develop as it has done under the leadership of Gay Young and directors before her, who were committed feminists and public intellectuals engaged in dynamic social transformation. I look forward to continuing the innovative and interdisciplinary collaborations that are the hallmark of the WGSS program. Over the next three years I hope to introduce an annual lecture series; develop research colloquia for faculty and students, particularly graduate students whose research relates to WGSS; and launch exciting new initiatives aimed at supporting interdisciplinary faculty research and collaboration with WGSS."