Arts
Book Notes: Leonard Bernstein and His Young People's Concerts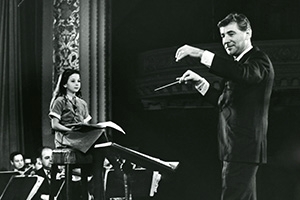 This month Rowman & Littlefield will publish Leonard Bernstein and His Young People's Concerts, a new book written by Performing Arts Professorial Lecturer Alicia Kopfstein-Penk. 
Kopfstein-Penk describes herself as an enthusiastic postmodernist. She has taught musicianship, guitar, music history, and general education classes at American University since 1998. As a performer, she has sung Bernstein at the Metropolitan Opera, Beatles at clubs, and classical guitar at the Kennedy Center. She is also a contributor to Soundboard and a podcast producer for the Washington National Opera. 
Leonard Bernstein and His Young People's Concerts  
Leonard Bernstein touched millions of lives as composer, conductor, teacher, and activist. He frequently visited homes around the world through the medium of television, particularly through his fifty-three award-winning Young People's Concerts (1958-1972), which at their height were seen by nearly ten million in over forty countries. Originally designed for young viewers but equally attractive to eager adults, Bernstein's brilliance as a teacher shined brightly in his televised presentations. And yet, despite the light touch of the "maestro," the innocence of his audience, and the joyousness of each show's topic, the turbulence of the times would peek through. 
In this first in-depth look at the series, Alicia Kopfstein-Penk's Leonard Bernstein and His Young People's Concerts illustrates how the cultural, social, political, and musical upheavals of the long sixties impacted Bernstein's life and his Young People's Concerts. Responding to trends in corporate sponsorship, censorship, and arts programming from the Golden Age of Television into the 1970s, the Young People's Concerts would show the impact of and reflect the social and cultural politics of the Cold War, Vietnam, the Civil Rights and Women's Movements, and the Counterculture. Bernstein cheerfully bridged classical and popular tastes, juxtaposing the Beatles with Mozart even as he offered personal, televised pleas for peace and unity. At the same time, the concerts reflect Bernstein's troubled relationship as a professional musician with the dominance of atonality and his quest to nurture American music. 
Praise 
"Alicia Kopfstein-Penk has written a thrilling and vivid account of the element in Leonard Bernstein's work that touched more Americans than anything else he did: the musical education—and inspiration, too—of an entire generation."
— Humphrey Burton, producer, director, and Bernstein biographer  
"Alicia Kopfstein-Penk is a master of archival research. In her recent study of Leonard Bernstein's Young People's Concerts and their cultural significance she has painstakingly gone through a large body of material in rich detail. Her study is exhaustive and extensive, and will form the foundation for future scholarship on Bernstein and this important cultural legacy."
— Elizabeth Wells, Mt. Alison University, author of West Side Story: Cultural Perspectives on an American Musical  
"For the general public, the Young People's Concerts with the New York Philharmonic were one of the highest-profile parts of Leonard Bernstein's remarkable career. The broadcasts have been considered by scholars for their educational content and value and as part of Bernstein's work with the orchestra, but, until now, little work had been done in terms of putting them in the broader contexts of Bernstein's life or the larger musical world. Alicia Kopfstein-Penk has done this beautifully in this study, combining dogged archival work in the Bernstein Collection at the Library of Congress with an encyclopedic knowledge of the Bernstein bibliography and knowledgeable handling of related topics in American music, modern music, cultural contexts, and the medium of television."
— The University of Kansas, Paul Laird, Director of Musicology Division, The University of Kansas, author of Leonard Bernstein: A Guide to Research 
For More Information 
Visit the Rowman & Littlefield website.