Alumni
Odds in Their Favor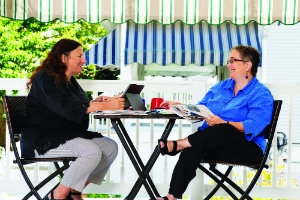 Deborah Figart and Ellen Mutari are, as they say in poker, all in. The research partners—the Stockton University professors penned Just One More Hand: Life in the Casino Economy in February 2015—also share a full house in Ventnor City, New Jersey, a throw of the dice from Atlantic City. 
Like the casino workers featured in their book, Figart and Mutari have struggled to balance work and family. They've been together for 31 years, but finding faculty employment in the same city was akin to pulling an inside straight. In 1995, Figart gave up a tenured job at Eastern Michigan University to join Mutari on the East Coast. Today, both hold tenured positions at Stockton, a public New Jersey university in nearby Galloway. 
The couple had to navigate not only a tough job market, but also societal recalcitrance on LGBT rights. "We have gone through relationship upgrades, Mutari jokes. They became domestic partners in 2004, later attained civil union status, and are now officially married. The couple met in Washington, DC, in the 1980s. Figart earned her doctorate in economics from AU and Mutari followed suit.  
"She actually fell in love not just with me, but with the political economy program at AU," Figart says. So do they argue about economics at the dinner table? "There isn't a firm line between work life and home, and we work an awful lot," Mutari says. "But the biggest disagreement that we've had in our household was in 2008 with Barack Obama versus Hillary Clinton." Either way, the house always win.

Story appeared in the November 2015 issue of American magazine.