Arts
Renowned Ensemble Works with AU Students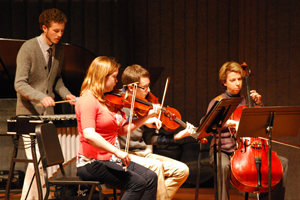 American University has hosted many notable professionals over the years. Specifically, the Department of Performing Arts just this year has had numerous artists-in-residence and guest artists ranging from instrumental music to dance. This invaluable resource for students continued—the Linden String Quartet held a master class and a free performance on April 26.
The Linden String Quartet is a relatively young ensemble, having only been formed in 2008. The quartet, comprised of violinists Sarah McElravy and Catherine Cosbey, violist Eric Wong, and cellist Felixt Umansky, has already won multiple national and international awards and competitions. In addition to working with university students at AU and other colleges, the Linden String Quartet is the graduate string quartet-in-residence at Yale University. The ensemble is mentored by the Tokyo String Quartet and was also recently selected for the prestigious 2011 A.N. and Pearl G. Barnett Fellowship. They also have a concert tour, which stops in venues all across the nation, including Carnegie Hall.
This appearance by the Linden String Quartet at AU is part of a new series sponsored by music program alumna and current AU Arts Council member Joanna Driggs. Her donation is designed to specifically bring notable artists to American University to give concerts for the community and hold master classes for students. The Driggs series has already provided educational opportunities this year. In February, renowned mezzo-soprano Elizabeth Bishop and her husband, acclaimed pianist Ken Weiss, held a master class with current AU vocal majors. Earlier in April, the Grammy Award-winning ensemble eighth blackbird held a daylong residency at American University, providing instruction to student ensembles and giving a demonstration on minimalist music.
Driggs' generosity specifically aids the AU music students by providing hands-on training opportunities with some of the best musicians in the world. "The goal of this series is to bring some of the greatest musical artists to AU to interact with and inspire our students and to further enrich the cultural life of the AU community," says Fernando Benadon, chair of the Department of Performing Arts.
For more information about the Linden String Quartet's work at AU or future artist residencies, visit the AU Arts website.