Humanities
Telling the Story from Two Sides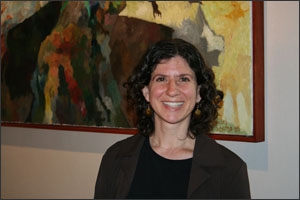 AU history professor Lisa Leff isn't interested in heroes. In fact, she's fascinated by just the opposite. "I think it's so much more interesting to take morally ambiguous figures and try to understand them," she says. "I'm really interested in creating a discussion around moral ambiguity. Everyone experiences it in their own lives, but how do we understand something that's a little bit of this and a little bit of that?"  
The main character in her new nonfiction book, The Archive Thief, is the outlet she uses to explore this question. During World War II, French Jewish historian Zosa Szajkowski (Shy-kov-sky) smuggled documents about the Jewish experience in the war to New York. He was praised for preserving these precious archives until he was caught 20 years later doing the same thing—this time stealing documents related to the Jewish experience in France from the 16th to 20th century. "In the end, he probably stole tens of thousands of documents," says Leff.  
Though Szajkowski was certainly a criminal, his thievery could also be seen as heroic. "In a way, he should have erased the memory of Jews in France," says Leff. "Instead, he kept it alive because many documents were bought by institutions in America, and it was in America where the first academics became interested in this topic at all." 
A French historian herself, Leff stumbled upon her interest in Jews in France while in graduate school. While writing a French history paper, she discovered the ability to approach the same topic from two different perspectives. "I realized you could use questions from one field to approach the other field differently than anyone had before," she says. "By putting yourself at the point where French history meets Jewish history, you could answer questions in both fields that nobody was asking."  
Though she is still revising The Archive Thief, Leff recently published an article about the book in Tablet Magazine that generated a lot of excitement. "Within one day, more people liked it on Facebook than had purchased my first book," she says. "Because the academic audience is so tiny and books can be expensive, books like this are often only read by specialists. It's amazing to have a story that reaches more people."  
While currently on leave from AU to focus on finishing her book, Leff is looking forward to getting back into the classroom in January. "I have fun with my scholarship, but it can be lonely. There's something so exciting about bringing a document before 35 people and saying 'let's do this together,'" she says.  
An associate professor since 2009, Leff came to AU from Southwestern University, a small liberal arts college outside of Austin, Texas. Though she misses her former students and valued her time there, she is enjoying working with students at AU. "Having been at a small liberal arts college, many of those students chose a nurturing environment because they're shy," says Leff. "At AU, the students are not shy—they're really enthusiastic. This energy can be like magic because students are really knocking each other out to get their word in. Classes can really feel like a historical workshop." 
Leff is happy with the direction her career has taken so far, but she has a few goals for the future. "I'm hoping we'll have more PhD students coming to AU do French history, and I'd really love to be a part of growing that," says Leff. More than anything, though, she hopes to continue on the path she's on, combining her passion for both French and Jewish history. "I want to continue to speak across centuries," she says. "My hopes are that this will also help me speak across the divide between European history and Jewish history."