Literature
Annual Colloquium Features Acclaimed Graphic Memoirist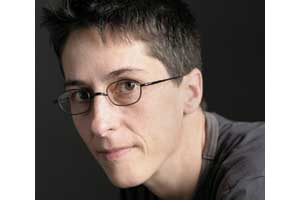 The Department of Literature Colloquium Series and the Visiting Writing Series will present graphic memoirist and comic artist Alison Bechdel on Sunday, October 25, at 3 p.m. in the Katzen Art Center. She will speak about her graphic memoir Fun Home: A Family Tragicomic.
A graduate of Oberlin College, Bechdel first gained acclaim with her comic strip Dykes to Watch Out For, which started in 1983. Her most recently published work, Fun Home: A Family Tragicomic, was named by Time magazine in 2006 as one of the "10 Best Books of the Year." She is currently working on completing her second graphic memoir, Love Life: A Case Study.
"[Bechdel brings] a complex aspect to the graphic memoir genre by using art in a subtle manner to portray the fiction that is found in non-fiction," says Michael Wenthe, literature professor. "Literature and life intersect between the real world and the artistic representation in her memoir."
This is the literature department's seventh year hosting the colloquium, which will take place from 9 a.m.– 3 p.m. in the Battelle-Tompkins Atrium. Each year, the colloquium brings faculty members and students together to discuss a single book. This year's selection is Bechdel's Fun Home.