Literature
Literature Professor Leads Study of African Writing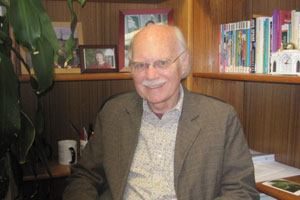 Literature Professor Charles R. Larson taught his first African Writer class nearly 50 years ago at the University of Colorado, in 1965. Since then, he's become a expert in the field of African literature, writing eight of his own books and editing six other books and anthologies, including one with his wife Professor Roberta Rubenstein.

When Larson began teaching the African Writer class in Colorado, he became the first person in America to offer a class based on African literature. But studying the works of African writers proved no easy feat for Larson.
One of the most significant challenges that he faced when beginning his course was finding books. "I had to bring them in from England; that was the most likely place for the books to be printed," he says. Because no one else in America was reading or studying African literature, Larson had to think outside the box to make his class work.
He began communicating with American publishers to get specific books by African writers in print in the United States. "I made choices about writers to see published in the United States. That's probably my most significant achievement. Those books and anthologies have been used all across the country," Larson says.
He published his own anthology, Under African Skies, with 25 stories from the continent. His anthology is now used in classrooms around the world to study African literature. He was also instrumental in getting Chinua Achebe's Things Fall Apart published in a paperback edition, a novel that flourished in America with Larson's help.
Larson says many Americans, unfortunately, believe in the stereotypes about Africa, which he attributes to gaps in literature studies. "The stereotype is that Africa is one country, a primitive place, that the people don't have traditions, cultures, and that they are less sophisticated than ours," he says. He continued to teach the African Writer class at American University after all these years in effort to break down these stereotypes.
After nearly 50 years teaching the course, Larson says he's been able to educate thousands of students about the realities of Africa and other areas of the world because of another course, Third World Literature, he has also taught for many years.
"When I began teaching these courses, students had no sense of what was out there—not simply the literature but also the cultures. They had no exposure to any of this in their high schools," he says. "I get students when their awareness of African, Latin American, or Asian literature is minimal. I have the opportunity to expose them to this incredible writing from around the world."
Larson's class, The African Writer (LIT-225), will be offered during the spring 2011 semester on Mondays and Thursdays at 11:20 a.m.