Alumni
Alumna and Civil Rights Activist Recounts Life Work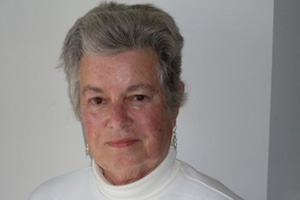 A few options are available to students when funding a college education—student loans and parents' pocketbooks being among the most popular. Using money won from a federal court case to earn a master's degree in international education is something that very few people can boast about. Margaret Herring CAS '89 is one of those people.
After battling courts for nearly 20 years, Herring came out on top in a case that overturned sedition laws in Kentucky. The damages paid in the case sent Herring to American University.
Herring's work leading up to her coming to AU had been defined by fighting for her rights, as well as the rights of others. In 1964 she joined the Student Non-Violent Coordinating Committee (SNCC), registering African American voters in one of the most controversial and conservative areas in the Deep South during that time—Mississippi. Her work with SNCC is now being honored in a chapter of Hands on the Freedom Plow: Personal Accounts by Women in the SNCC.
Herring's story is featured in the book as one of over fifty personal narratives from women involved with the SNCC during the civil rights movement, focusing primarily on how exactly she came to pack up her bags and fight for equal rights in Mississippi.
She first learned of the SNCC and the discrimination in the South at a job she had reading fan mail and typing a journal for Drew Pearson, a writer of the popular column Washington Merry-Go-Round. "I was familiar with what was happening down there from the news media, opening the mail, and reading the press releases from the SNCC, so I had a big sense of how unjust the people of Mississippi were," she says. "You wouldn't believe, [African Americans] were getting beat up all the time, the churches were getting burned."
That's when Herring took the plunge to stand up for what she believes in. She quit her job working for Pearson and started working in the national SNCC office in Mississippi. "It was an opportunity to go and help, so I did," she says. "I knew that this would pass, so there wouldn't be another opportunity after it. When the students got involved in this, it was exposed to the national media and it wasn't hidden anymore."
When she got to Mississippi, Herring helped gain support for the students by calling press in the North, friends of SNCC, and local police stations. SNCC had programs in Alabama, Georgia, and Arkansas, and it was Herring's job to try to acquire as much financial and human assistance for the organization as possible.
But when a new era of the civil rights movement emerged in 1966, she turned the reins over to those whom she considered their rightful owners. The concept of Black Power became prevalent and Herring responded to the calls made by activists like Stokely Carmichael for a stronger, more African American led force. "There was kind of a shift when black people said 'We want to run our own liberation movement, and thank you very much for your help, but it's time to take over,'" she says.
Talks of a coalition between African American and white activists surfaced that called for a later union of the two, once those supporting Black Power had been given enough time to make real progress. Until then, it was suggested to Herring and other white workers that focus be put other aspects of the civil rights movement, including working with poor and working class whites and building opposition to the Vietnam War. "I took that seriously and worked in Kentucky to help get benefits for miners, poor and working people and to stop strip-mining," she says.
She and her husband were met with great opposition when they moved to Pike County, Kentucky in 1967 to combat high poverty rates, unemployment, poor schools and infrastructure. Coal companies there had exploited their workers and polluted the environment by strip-mining, all while raking in enormous profits and never giving back to the community. "They did not like the idea of people coming in and telling poor people they can make their lives better, because that meant that they would lose their political and economic control ," she says.
Then one night, Herring and her husband opened their front door to find a swarm of law enforcement officials that had come to arrest them. "They arrested me and charged me with sedition. It means teaching people how to overthrow the government," she says. "We were red baited. People were afraid of us after that."
At five months pregnant, Herring was taken to jail and her personal papers and documents seized by officials. "They took all the papers out of our house, address lists—all kinds of stuff—our files, my diary, and went through everything," she says. Pike County officials had made copies of hundreds of documents and sent them off to Sen. John McClellan, chairman of the Senate Permanent Subcommittee on Investigations.
McClellan sent a subpoena for 234 of the couple's original documents. But when they refused to hand over any of their papers, the couple was cited for contempt of Congress.
Then, one night, Herring and her husband were awakened to the sound of massive explosions. "Our house was dynamited," she says. "They wanted to kill us." Herring and her husband left Pike County and watched their friends and their livelihoods fade away as they became a threat to others.
The couple waited 18 years for the issue to be resolved until they won both a criminal and civil case against McClellan and the man who seized their personal papers and documents and had arrested them back in 1967. The case, McSurely v. McClellan, contested congressional immunity in terms of illegal searches and seizures.
Now retired, Herring reflects on her life as an activist and says that the conflicts of the civil rights movement are still present today, but they are just more difficult to see. "The challenge is how to combat racism in white people. You just have to stand up at every chance you get. Racism is more covert and institutionalized, and a lot of white people don't realize they're being racist," she says.
At 75-years-old she still keeps her hand in activism, working for local candidates in Wilmington, North Carolina, and for environmental issues. She is also a member of the NAACP. "If there's something that you really believe—if you believe that black people have a right to vote and to equal accommodation, then you'll stand up for that. You can't just stand by when you see injustice," she says.