Achievements
Student Awarded 2015 President Clinton Hunger Leadership Award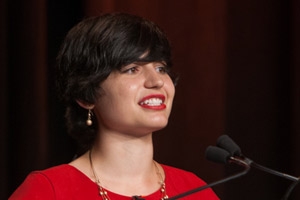 Maria Rose Belding (public health '17) has been awarded the 2015 President Clinton Hunger Leadership Award winner for her work to fight hunger. 
Named in honor of President Bill Clinton for his commitment to humanitarian causes, the award recognizes an undergraduate or graduate student who has proven outstanding leadership in the movement to end hunger. The award is co-sponsored by Stop Hunger Now and NC State University Center for Student Leadership, Ethics and Public Service (CSLEPS). 
Belding will receive a $1,500 cash prize from Stop Hunger Now to use in her education and/or engagement in the fight to end hunger. She will accept the award at the Universities Fighting World Hunger Summit on Feb. 21, 2015, at the University of Guelph in Guelph, Canada.
Hunger as a Public Health Issue
As a public health major, Belding sees a natural connection between her studies at AU and the fight against hunger. 
"The issue of hunger is woven throughout public health," she says. "Food insecurity is the result of poverty, inequity, inadequate food systems, and lack of access to resources. This results in poor educational attainment, further poverty, and new or exacerbated medical problems. These are just some of the variables that may be at play, all of which we study in our classes."
Sharing Food, Decreasing Waste
Belding's work to fight hunger goes back several years to when she was a junior in high school and established MEANS (Matching Excess And Need for Stability), a database designed to help food pantries communicate with each other to share surplus food and significantly decrease food waste. 
Her work has earned her recognition from the Sodexo Foundation, the Prudential Spirit of Community Awards, and the White House, which presented her with a President's Volunteer Service award in 2014. She also served as a judge for the 2013 World Food Prize Iowa Youth Institute and Global Youth Institute (GYI).

Impacting Lives
Belding credits JoLynn Gardner, director of AU's Public Health Program, for her support. "Dr. Gardner was really helpful on the letter of recommendation for this award," she said. "As a freshman, I really appreciate that she took a leap of faith and believed in me."
In turn, Gardner looks forward to seeing what Belding will do next in her mission to fight hunger. "Maria's leadership in the MEANS project, as well as her passion for and commitment to hunger relief, are inspirational. Her work will positively impact so many lives."