Science
Professor Joins The Journal of Neuroscience Editorial Board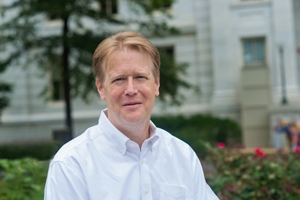 Mark Laubach, associate professor of biology, has been named to the editorial board of The Journal of Neuroscience.
The Journal of Neuroscience is a weekly peer-reviewed scientific journal published by the Society for Neuroscience. Covering empirical research on all aspects of neuroscience, it is widely considered the world's leading publication for the rapidly growing field. 
In his work for the journal, Laubach will work with senior editors to identify appropriate reviewers and review manuscripts. He will focus on the journal's Systems/Circuits section. It features papers reporting new findings about how groups of neurons work together to process information, and how the neurons are "wired" to carry out their functions. His appointment follows his previously winning an award as "Top Reviewer" for the Journal.
Neuroscience Research
Laubach joined AU's Department of Biology and the Center for Behavioral Neuroscience in the fall of 2014. As a neurobiologist, he is interested in brain circuits that enable executive control and decision-making. 
Laubach recently received an award from the National Science Foundation to support research on neural circuits that allow for executive control over action. He also won an award from The Klarman Family Foundation to research neuronal circuits that control food-seeking behavior and may underlie eating disorders.