Science
Noted Neurobiologist Joins AU Faculty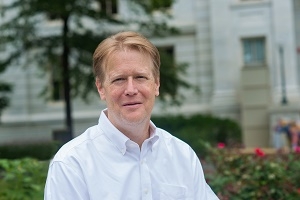 Neurobiologist Mark Laubach has devoted his career to learning how our brains work and how they allow us to change our plans when something unexpected happens or when things go wrong. 
"I grew up during the computer revolution when many people thought that brain function could be explained using principles from computer science," Laubach says. "I have never been convinced of that." And so he's concentrated his research on how our brains enable us to act flexibly—something that computers are not very good at doing. 
Laubach joined AU's Department of Biology and the Center for Behavioral Neuroscience this fall. Formerly an associate professor of neurobiology at Yale School of Medicine and an associate fellow at the John B. Pierce Laboratory in New Haven, Connecticut, Laubach will be teaching undergraduate and graduate students and conducting research through the center. 
"Professor Laubach is an outstanding, internationally known scientist who is eager to share his knowledge and skills to help others achieve their research goals," says Terry Davidson, professor of psychology and center director. "That makes him a great fit with the mission of the center and with the philosophy of American University." 
Laubach's research focuses on understanding the neuronal circuit basis of decision making, motivation, and self-control. He is especially interested in how decisions are adjusted when outcomes do not match expectations. His laboratory uses multi-electrode recordings, optogenetics, and computational methods to record brain cell activity and analyze the resulting data. 
"I am thrilled to be at AU, and I am delighted to take part in Professor Davidson's new Center for Behavioral Neuroscience. The center offers an exciting new way for neuroscience researchers at AU to work together to solve problems of common interest," says Laubach. 
This fall he is teaching a course based on President Obama's BRAIN (Brain Research through Advancing Innovative Neurotechnologies) Initiative, which aims to develop methods for understanding brain function. In the spring, he will teach a course for the new neuroscience major that will focus on the cellular basis of brain function. 
Laubach is excited to be back in the classroom. "I have been at a medical school for the past 13 years and had limited interaction with undergraduate students," he says. "I am very much looking forward to teaching courses for the new neuroscience major and hosting students for research in my lab. I can't wait to see the first neuroscience majors graduate in a few years and go on to productive careers in science and medicine."