Social Sciences
Finding Wales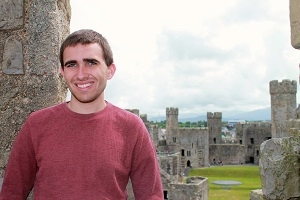 What do the country of Wales and western Massachusetts have in common? 
Matt Waskiewicz; BS economics, BA political science '16; spent six weeks in Wales exploring the answer to this question on a Fulbright Summer Institute grant. 
He began his trip at Cardiff University, located in the Welsh capital on the south coast, studying how shipping and mining have shaped the country's economy. He then traveled north to Bangor to learn about traditional Welsh culture and how the local tourism industry is working to create jobs and preserve the region's cultural heritage. Waskiewicz ended his trip at Aberystwyth University in Mid Wales, an agricultural area known for its wind farming industry, where he looked at sustainable energy practices. 
"My Fulbright gave me the opportunity to examine a post-industrial society similar to the United States and its ability to adapt to the twentyfirst century realities of globalization and climate change," he says. "The United States is grappling with many of the same challenges as contemporary Wales." 
Common Ground
It was a photograph on the Fulbright website that first got Waskiewicz thinking about Wales. The image of the country's rural north reminded him of home. "The rolling hills and picturesque farms looked very similar to those of my small hometown of Hadley in western Massachusetts," he says.

He discovered that the two places have more in common than their landscapes. Like western Massachusetts, Wales has a large Polish population. Between 1945 and 1950, the United Kingdom opened its doors to refugees from Poland seeking to escape Soviet oppression behind the Iron Curtain, and a wave of immigrants poured into tiny Wales. A second wave of Polish immigrants has been arriving over the past decade, and Polish-born residents now outnumber all other immigrant populations. 
"I was fascinated because I am half Polish," says Waskiewicz. "Polish culture is very strong in the tiny community where I grew up. We went to polka concerts, celebrated Polish holidays, and made pierogi together at church. Wherever you go in western Massachusetts, you'll find Polish music and food and culture." 
The Fulbright gave him an opportunity to compare Polish immigrant culture in Wales and the United States. During his second week in Cardiff, he visited a family owned Polish restaurant. "It made me think of my ancestors and other Polish families who came to the United States to create better lives. And in both Wales and in western Massachusetts, it was through hard work and determination that the dream of a good life became a reality." 
Over the course of six weeks, Waskiewicz found other connections between Wales and western Massachusetts. Both places, he observed, face the challenge of providing a future that is both economically and environmentally sustainable. Both had been dominated at one time by industry and supported by agriculture. Though they thrived on different industries—coal in Wales and textiles in western Massachusetts—they share the challenge of regenerating their economies after the shuttering of their dominant industry. 
Bringing It Back Home
Waskiewicz hopes to apply what he learned in Wales toward a career in politics and public service. He's already tested the political waters with two internships on Capitol Hill.

At AU, he has been a member of the AU Honors Program, a resident assistant, a trumpeter in AU's jazz band, and the president of the Student Honors Board. Eventually Waskiewicz plans to go to law school, but in the interim he wants to take time off from his studies to do political work in DC or Massachusetts. 
"Studying in Wales was an incredible experience," he says. "The Fulbright program gave me an opportunity to see how we all impact each other economically, culturally, and environmentally, even across rivers and oceans. By studying the transformations in Wales, I better understand how similar changes might happen in the United States. Someday I want to help make changes like this happen."