Arts
Measure for Measure: A Shakespeare Problem Play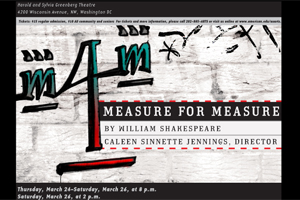 "Artists know that solving the problem allows the dance to emerge, the painting to reveal itself, the character to speak." These are the words that Caleen Sinnette Jennings, cochair of the Department of Performing Arts and director of AU's upcoming production of Shakespeare's Measure for Measure, uses to describe what she says is "the toughest play I've ever directed."
One of Shakespeare's "problem plays," that doesn't seem to quite fit into the category of comedy or tragedy, Measure for Measure puzzles and mesmerizes audiences simultaneously.
Measure for Measure arises from the actions of Vincentio, the Duke, who leaves his city government in the hands of a strict deputy, Angelo. While the city's stringent laws against fornication were hardly enforced by Vincentio, Angelo takes an austere and firm stance against sexual immorality. Angelo himself is flawed, and the characters react against his authority by turning to promiscuity, hatred of hypocrisy, and rejection of authority—all things that Jennings says are extremely relevant to modern day society.
"The play's a hall of mirrors," says Jennings. "Each character's a measure of evil to a measure of goodness."
Jennings has taken a unique approach to tackling this difficult production. Instead of casting individual characters, students auditioned for the ensemble as a whole, and were then placed in specific roles after two weeks of rehearsing the play as a group. "This allowed the play to create itself," says Jennings. "Our cast in invested in a single play rather than their individual interpretations."
While all of Shakespeare's original language will be preserved in the production, the play will feature a contemporary setting, facilitated not only by the cast, but also by the set and sound designers. To complement the modern setting they are "using house music – a mix of R&B, techno, and a touch of classical, among other things to create a unique sound," says Jennings.
Jennings decided to direct Measure for Measure this season after examining the play with her peers this past summer at the Folger Shakespeare Library's Teaching Shakespeare Institute. "I watched my scholar colleagues get so excited about seemingly minor characters in the story," says Jennings. "I wanted to direct this play almost as a dare to myself."
The production features a diverse cast that includes students majoring in biology, history, secondary education, mathematics, film, public communication, and many other fields in addition to performing arts. For some of the production's 23 actors this is their first show, others are seasoned veterans. "The cast represents a wide range of experiences," says Jennings. "And we all learn from each other. It is a process of joint discovery."
Measure for Measure will run in the Harold and Sylvia Greenberg Theatre from Thursday, March 24 to Saturday, March 26, 2011. Performances are at 8 p.m. with an additional performance at 2 p.m. on the 26. Tickets, which are $10 for AU community members and seniors and $15 for the general public, can be purchased at the Greenberg Theatre Box Office or online at american.tix.com.