Arts
Theatre Professor's Play Named Best Musical by Time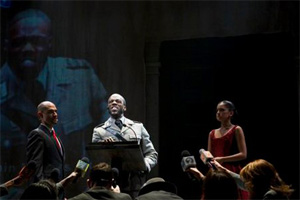 Named Time magazine's best musical of 2010, Venice blends rap, Othello, myriad swirling ensembles, and an Obama-like leader into its cacotopian future. AU theatre professor Meghan Raham designed the play's sets and costumes from inception through its most recent Los Angeles run. She reflects below on some of her experiences.

Q: How did you get involved with Venice?
Raham: My first professional hire after graduate school was the design for a one-man hip-hop show, CLAY, created by Matt Sax and directed by Eric Rosen—the team who went on to write Venice. We presented CLAY first in a tiny studio space upstairs at the Lookingglass Theatre in Chicago, and then went on to very well-received productions at the Kansas City Repertory Theatre and Lincoln Center's LCT3 program. It was while we were working in New York in 2008 that Eric first approached me about designing Venice, which they were beginning to develop at that time. Though the shows are very different, they do share a sensibility in terms of style and youthful energy that I think felt like a natural progression for our creative team: it made sense for us to continue to work together on this new, larger project.
Q: Did you have other productions in mind as models for Venice?
Raham: In terms of form, I think that the previous work as a team on CLAY may actually have been one of the strongest influences on the design for Venice, as I had learned a lot about my collaborators and knew how to give them the tools they needed to tell the story the way they do best....The design for both shows, for example, utilized very classically "theatrical" elements like a proscenium and curtains, but in Venice these elements were made from scaffolding and industrial plastic. This allowed us to play with some of the classically theatrical performance ideas [like] narration or direct audience address, but to use materials that supported a more nuanced story. 
Q: The Los Angeles production was praised for making hip-hop a kind of normal mode and for presenting an atmosphere that felt bigger and more whole than its ensemble parts—could you talk about those aspects of the play?

Raham: The "Venice" of our story is a fictional city in the future, but that future city had to have a very specific past. Architecturally and structurally, I borrowed very specific elements from the Greeks, from New York, from urban Africa, from the Italian city of Venice: elements that feel familiar but are combined visually into a world that is different from anything we have specifically seen before. All of this was additionally surrounded by the scaffolding and tarps of a city that is trying desperately to rebuild and repair—and which also functioned as a projection surface for the film/video component of the production.
One of the most exciting things, to me, about Venice, is the use of rhythmic, metered speech in a way that is at once very modern and also very Shakespearean. It solves the problem, in some sense, that musicals always face: how to justify the characters' breaking into song to express emotion or inner thoughts—and translates it into a context that feels more, again, like a complete fictional world in which metered speech is simply the way people communicate.  A rapped narrative is simply a rhyming monologue, and I love the way contemporary audiences are ready to accept that convention.
Q: Given the title character's obvious Obama parallel, did you borrow anything from the way his campaign or presidency has been presented?
Raham: There are certainly pieces in there that relate to our current political environment, but I think the larger challenge was in that the play takes place in the not-too-distant future, but flashes back to a more prosperous past that technically would be roughly "now." In terms of the themes of the piece, it was more important visually to convey a sense of nostalgia for what had been than concretely to convey a particular date, so the silhouettes of "the past" use lines and cuts from the '50s and '60s. These shapes are re-combined and filtered through a sort of abstract or idealized lens, but the past being more "dressed" helps us to feel that sense of nostalgia, and also says something about the social formality or niceties that existed prior to the terrorist attack depicted.
Q: Did Venice sensitize your designer's eye in new ways: What's impressed you lately?
Raham: I've recently been re-inspired by the Vietnam Veteran's Memorial and am having my students visit it to discuss this week. It is an extraordinary example of the design of an experience; having both visual and spatial impact and meaning, which is really what the best theatrical design achieves as well. Additionally, I'm hoping that the fact that it was designed by Maya Lin when she was the same age as many of my students will help them see the legitimacy of their own voices and ideas.