Science
Statistically Speaking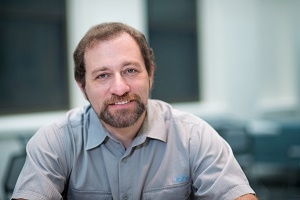 Statistician Michael Baron thinks big when it comes to his subject. The new faculty member in the Department of Mathematics and Statistics plans to continue his research on the expanded application of statistics. 
His focus is sequential analysis, an approach through which data is collected and evaluated sequentially in real time, with no fixed sample size. When significant results are observed, the sampling of data is stopped. This type of statistical analysis often leads to conclusions at an earlier stage than is possible with traditional techniques—and at a lower cost. 
Currently funded by a National Science Foundation grant, he and a former computer science colleague at the University of Texas–Dallas, where Baron worked previously, are working with the U.S. Defense Department's Defense Threat Reduction Agency to study distribution changes in Internet traffic to improves the prediction of potential threats, such as terrorist attacks. "We look for frequencies of certain keywords in text data streams," he says. "When some of their distributions suddenly change, we know there has to be a reason for it, maybe a potential threat." 
Born in Russia, Baron received an MS in mathematics from Saint Petersburg State University. He subsequently came to the U.S. to enroll as a PhD student in statistics at the University of Maryland. While there, he discovered that sequential statistics would allow him to apply the elegant math theories he learned in Russia to solve the daily operational problems challenging many companies. "I worked at IBM for a year, and they were interested in finding out very quickly where the distribution changes on their factory lines were occurring," he says. "In fields like epidemiology, security, and quality control, you want to know when something has changed—and why." 
Baron likes the applicable outcomes he gets from sequential analysis. "I'm always satisfied when I can prove a result or derive a new method, something that people can actually implement and use," he says. "It feels like a discovery." 
He also likes to instill this feeling of accomplishment in his students. When asked to create a new undergraduate statistics course at the University of Texas–Dallas, Baron designed a class for computer science and software engineering majors weighted with stochastic modeling and simulation. "I didn't want them to think this course was just a curriculum requirement," he says. "I wanted to show them how statistics can be useful in their professional careers and everyday life." 
It was a hit. Based on the success of that course, Baron wrote a book, Probability and Statistics for Computer Scientists (Chapman and Hall/CRC, 2007). The book generated a huge response from academics around the world; today, it is used as a classroom text at some 15 universities in eight countries, and a second edition was published in 2013. 
Baron likes to check in with his former PhD students and advisees to see what they're up to. "Many of them pursued academic careers, and some have already graduated their own doctoral students," he says. "That makes me an academic grandfather." He also solicits their feedback to improve his teaching for current and future students. 
Now that he's based in DC, Baron looks forward to partnering with organizations like the National Institutes of Health, the Environmental Protection Agency, and the Department of Defense. But there's one aspect of Washington he's not sold on: "I'm a Dallas Cowboys fan," he admits. "I guess I'll have to become a Redskins fan now."