Alumni
Music Alumna Debuts at Metropolitan Opera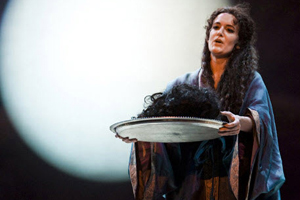 Molly Fillmore knows that perseverance is a key ingredient in the making of a successful career in the competitive field of opera. A 1994 graduate of AU's music program, Fillmore will make her debut at the Metropolitan Opera in a production of Wagner's Die Walküre directed by Robert Lepage and conducted by the Met's Music Director, James Levine. The production will be broadcast live in movie theatres worldwide on May 14, 2011. She'll return to the Met next season for more performances of Die Walküre and to sing the role of Mrs. Naidoo in Satyagraha by Phillip Glass, a piece about the life of Mahatma Ghandi. Satyagraha will be broadcast live in movie theatres on November 19, 2011.
"The instability of a career in the performing arts requires one to be patient, hard- working…and to continually motivate oneself through the ups-and-downs of an extremely competitive profession," says Fillmore. "One can never make predictions of what is to come when working in the arts."
Fillmore decided upon her music major during her sophomore year when she was offered a solo contract with the Washington National Opera. "I briefly considered transferring to a conservatory to finish my studies," says Fillmore. "[But] I ultimately knew I didn't want to go to school anywhere else. The diversity of AU's population, the small campus setting within the city, and the wonderful city itself are a perfect combination for broadening one's learning potential and perspective."
After her time at AU, Fillmore earned a master's degree in music from the University of Maryland and was soon made a principal mezzo-soprano soloist with Oper der Stadt Köln (Cologne Opera) in Germany. After six seasons in Cologne, Fillmore moved back to the United States and was offered a faculty position at Michigan State University. "I was happy to move into a situation which would still allow me to perform as an opera singer but would provide stability for my daughter," says Fillmore. "It has proven to be a wonderful move into academia. I really enjoy teaching, and the creative independence one has as a professor."
After switching from a mezzo-soprano to a dramatic soprano repertoire, Fillmore began to receive contract offers from the Met, which according to Fillmore, was a "wonderful, unexpected turn of events."
"I had always been able to sing somewhat easily in the upper register of my voice - it just hadn't matured yet, which is sometime the case with dramatic voices," says Fillmore. "As I began to see that my upper register was becoming more stable and stronger, I worked for three years to prepare some soprano audition arias (all while singing mezzo professionally.) When I did the switch, my first offers came from the Met."
Fillmore will play the role of Helmwige, one of the central characters in Die Walküre, the second opera of Wagner's Ring Cycle. "I don't have the right words to describe the profundity and beauty of Wagner's music," says Fillmore. "It is an honor to sing it, especially for such a company."
"Music is my favorite hobby and what I do best," says Fillmore. "I am very lucky to have job that is really a love."
For more information on Die Walküre and the Metropolitan Opera, visit www.metoperafamily.org.