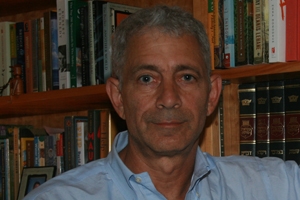 Morey Kraus's winding career has led him through the worlds of science and technology and business. But his basic beliefs about life and work, which he developed while studying philosophy and religion at American University, have never changed. 
"You cannot step twice into the same river," he says, quoting Greek philosopher Heraclitus. "When you look at different business opportunities, you make conclusions based on assumptions at that given time and place. But everything is always changing, and you must continuously adapt. This has been a big theme in my career." 
Kraus, BA religion '81, started out studying philosophy at AU after taking a class in great ideas that changed history. He took a year off between his sophomore and junior years to study at a yeshiva in Israel, where his interest in religion deepened. He ultimately graduated as a religion major with a minor in philosophy and considered becoming a rabbi. 
Instead, his life took one of those turns. He returned home to Pennsylvania to start a successful roofing business, installing rubber roofs for large buildings like schools, churches, and shopping malls. "I enjoyed seeing what I had done afterwards," he says. "I liked building something that would stand for a long time." 
But he began to feel that he wasn't fulfilling his intellectual goals. On the advice of an uncle, a professor of veterinary medicine, Kraus decided to go back to school at night to study science. "I was retooling. My classes gave me a new vocabulary and new ways of thinking," he says. 
Then he heard about a new program in biotechnology at Worcester Polytechnic Institute (WPI). He was intrigued. "I was optimistic about the possibilities of using science and business to change the world for the better," he says. 
Within weeks, he sold his roofing business, moved to Massachusetts, and enrolled at WPI, where he became a doctoral candidate in the interdisciplinary program of biotechnology and chemical engineering. 
While at WPI, Kraus was asked to write a research proposal about stem cells, a subject completely unrelated to his field of study—and which altered his path. 
In 1994, he formed his own company, t.Breeders Inc.,and focused his research on the growth of stem cells for treatment of life-threatening diseases. Kraus served as chairman and chief executive officer until 2000, when t.Breeders merged with ViaCord, a company that banks and preserves umbilical cord blood. When PerkinElmer Inc. acquired ViaCord in 2007, Kraus became chief science officer. "Once again, I learned that different types of leaders are necessary for different times. I went from the CEO of a technology company to the chief science officer of a very different type of commercial enterprise," he says. "It's astonishing to see how we took an idea in the field of hard science and got it financed and brought it all the way to this level of commercial success." 
Kraus's current research on the use of cord blood stem cells to treat disease involves a clinical trial in collaboration with Duke University Medical Center. The study focuses on the impact of cord blood infusion in children with autism. He also is exploring other ways to contribute to science and society: he serves as a mentor for the next generation of scientists at WPI, and he sits on the American University Science Council, an external advisory board working to advance scientific research and support students pursuing careers in scientific fields. 
Kraus says he still draws on his religion classes at AU. "I've learned that the river of opportunity is always changing. The most important thing is to learn how to learn—and that process really started for me at American University.