Arts
Hungary Knights AU Museum Director Rasmussen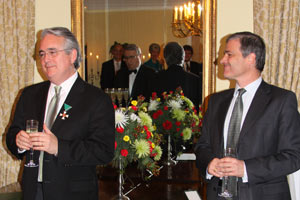 On Tuesday, December 1, the Republic of Hungary awarded Jack Rasmussen, director and curator of the American University Museum, with a Knight's Cross of the Order of Merit. The ceremony was held at Hungarian Ambassador Béla Szombati's home in Washington, D.C.
Rasmussen was presented with this honor for his role bringing Hungarian art to the museum. The first of these shows, 1956 Hungarian Revolution, was put up in 2006 after museum benefactor Cy Katzen arranged for Rasmussen to meet with members of the Hungarian Embassy's staff. "I could soon see what had captured Cy's, imagination," he recalls.
Last spring, two more exhibits were launched in conjunction with the embassy. Lajos Vada and Another Time, Another Place: Contemporary Hungarian Video Artists were presented as part of Extremely Hungary, a year-long festival aimed at showcasing the country's visual, performing, and literary arts in New York City and Washington, D.C. "Playing a major role in [the] Extremely Hungary festivities has been one of the highlights of my career," says Rasmussen.