Achievements
Music Professor, Composer Awarded Guggenheim Fellowship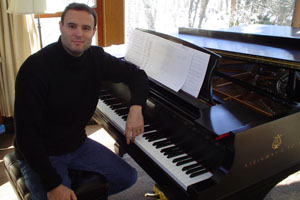 This June, Fernando Benadon was awarded a 2009 Guggenheim Fellowship in large part for his innovative debut album, Intuitivo, which was released this spring. For Intuitivo, Benadon took improvised solo recording sessions from seven musicians to the studio, where he melded the separate recordings into a series of cohesive compositions. "On the one hand, I had complete control and on the other hand it was completely improvised and fresh," the music professor explains. "It was the best of both worlds."
He plans to take his fellowship in fall 2010 to further his work studying microtiming, a term that refers to nonmetronomic rhythms played by live musicians. "In countless musical traditions around the world, musicians bend time through subtle inflections," Benadon explains. "They speed it up a bit, they slow it down a bit, and these changes make the music interesting, human, expressive, and great."
Benadon joined the AU faculty in 2004. His research focuses on rhythmic complexity, and his own compositions have earned him awards and recognition both nationally and abroad. Benadon oversees the university's Music Theory and Composition Program.  
Sponsored by the Guggenheim Foundation, the fellowships are awarded annually to scholars and artists who demonstrate both outstanding accomplishments and strong potential for continued achievement. Each year, the foundation chooses about 220 fellows from a pool of over 3500 applicants in a full range of academic fields.