On Campus
Renowned Arts Manager to Teach at Opera Institute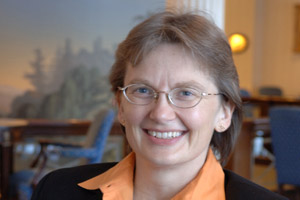 Christina Scheppelman, director of artistic operations at the Washington National Opera, will teach a workshop as part of the WNO's Institute for Young Singers at AU, which takes place from June 21–July 10. In her workshop, Scheppelman will discuss how to audition and prepare for opera roles.
"Christina has been an influential and important person in the world of opera for many years," says Nancy Snider, director of the AU music program. "She personifies the fact that there is no substitute for experience and instinct. Much of her legendary success has to do with how she relates to the artists; how she cares for them and how much they trust and value her." 
Open to students age 15 through 18 that have opera performance experience, the institute includes vocal coachings, performances, and master classes that focus on Italian art songs. Students attend classes on music theory, opera history, drama, chorus, and Italian diction, as well as workshops on practical topics, such as Scheppelman's audition workshop, and others on vocal health and resume preparation. Participants will also sing in several opera performances.