Arts
A Rewarding Practice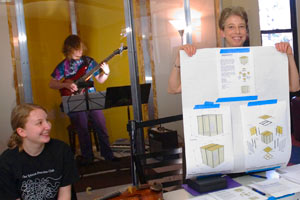 This spring, the Spinoza Practice Club decided to take its show on the road. The officially-recognized club, which is known across campus for the 24-hour practice-a-thons it holds in Mary Graydon Center, held its first off-campus one at the Adams Morgan Harris Teeter from 10 a.m.–5 p.m. on April 17.
The event raised over $1000 for the Patricia M. Sitar Center for the Arts, an Adams Morgan organization that provides inner-city children the opportunity to participate in arts education.
"It was a really great experience because it brought together several important elements of music: practice, performance and community," says Helen West, the club's president-elect. "Music is really a language everyone understands, and the Practice-a-thon allowed AU students to give this to the community as well as raise money so young kids in the District can do the same."
For the practice-a-thon, about a dozen club members rotated shifts practicing musical pieces inside "the cube"—a portable practice module designed for the club pro bono by architect Steven Spurlock and his team of architects from D.C.-based Wnuck Spurlock Architecture. Transparent and sound-proof, the cube serves to raise passerbys' awareness of the role that dedicated practice plays in bringing public performances to the stage.
"People would come up to the module, see people practicing inside, and ask why they couldn't hear the music," says Nancy Snider, music program director and the club's faculty advisor.  
"This provided us with the wonderful opportunity to inform them about process and to accentuate the fact that good practice and preparation are necessary and essential parts of artistic creation. The main goals of the practice-a-thons are to raise money for the young musicians of the Sitar Arts Center, to reach out to the community beyond Katzen, and to raise awareness about the musical arts and, in doing so, to advocate for all of the arts."