Arts
Songs from the Stacks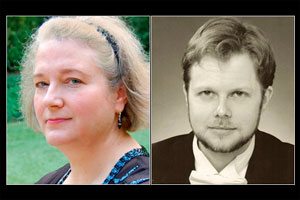 On Thursday, March 4 at 7:00 p.m., the Department of Performing Arts will present "Songs from the Stacks: American Song Treasures from the AU Library Collection" in the Katzen Arts Centers' Abramson Family Recital Hall.
The collection of love songs, comedic tunes, and lullabies was assembled entirely from AU's own sheet music collection, and it includes a combination of recognizable and virtually unknown pieces by composers including Wintter Watts, George Gershwin, and Septimus Winner.
A trio of AU performers will join to present this unique material. Mezzo-soprano Barbara Hollishead and tenor Doug Bowles are voice instructors in the performing arts department, and pianist Mary Gottlieb is an accompanist in residence.
"Songs from the Stacks" was born in summer 2009, when Hollinshead and Gottlieb began searching the university's sheet music collection in search of songs to perform. Their hours spent poring over—and testing out—these pieces evolved into a full program with the help of music librarians Nobue Matsuoka, Cene Ketcham, and James Heintze, and the support of a grant from the Center for Teaching, Research, and Learning  
The performance is free and open to the public.