News
Chamber Singers Tour Hungary and Romania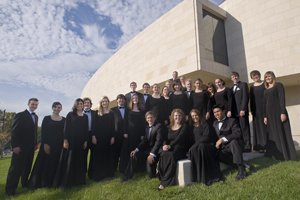 The Chamber Singers, CAS' ensemble of approximately 28 singers selected by audition from among music majors and others studying music in the Department of Performing Arts, will depart May 14 for a ten-day tour of Hungary and Romania. To give a preview of their program, they will be offering a concert Wednesday, May 13, at 8:00 p.m., at Holy Comforter-Saint Cyprian Church here in Washington.
In Hungary, the Chamber Singers will perform at St. Emery Roman Catholic Church in Budapest; and Csapokert Reformed Church in Debrecen. In Romania, their concerts will be held in the Sala Thalia, Philharmonic Hall, Sibiu; the Black Church, Brasov; and the Great Synagogue, Bucharest. They will conclude their tour with an informal program in Bucharest on Friday, May 22.
Their program will include selections spanning centuries of choral music from an early "Ave Maria" by Tomás Luis de Victoria to two setting of "O magnum mysterium"—one by Victoria in 1592 and the other by William Hawley in 1994—to American spirituals, folk songs, and fun.
The Chamber Singers have a long tradition of touring both nationally and internationally. Founded in 1934, the ensemble's repertoire includes both choral-orchestral literature with a particular emphasis on early music as well as a cappella works. Under the direction of Daniel Abraham, director of choral activities and co-chair of the Department of Performing Arts, the American University Choral program sustains its tradition of excellence in music performance and liberal arts music exploration.