Science
Two "Nifty Fifties" at AU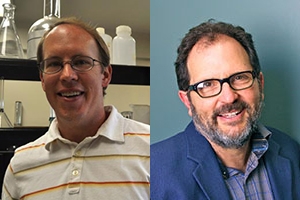 Over the next two academic years, 200 of the country's most inspiring scientists and engineers will be traveling to middle and high schools in DC, Maryland, and Virginia to share their passion and expertise with young students. They are known as the "Nifty Fifty (times 4)," and among this collection of Nobel Laureates, chief scientists, and top experts in their fields, will be two American University professors—Arthur Shapiro and Matthew Hartings.
Nifty Fifty Inspiring a New Generation  
The Nifty Fifty (times 4) speakers work in STEM fields—science, technology, engineering, and math. Nominated by their peers and chosen by the USA Science and Engineering Festival, they are called upon to help re-invigorate the interest of K-12 students in STEM careers. Nifty Fifty Speakers talk about three things: their field of science or engineering, their career paths (including the rewards and stumbling blocks), and where they see opportunities for young students in the sciences.  
Visual Sciences and Illusions Make Science Come Alive 
For Psychology Professor Art Shapiro, those opportunities are in the visual realm. Shapiro is a vision scientist and a creator of visual illusions that challenge the brain at the intersection of art, psychology, and computer science. His internationally acclaimed illusions have won awards in the Best Visual Illusion of the Year contest held by the Neural Correlate Society. 
"What an honor," Shapiro said of his nomination, "What more can you say, when you're invited to participate with a group of people like this?" 
For Shapiro, the study of visual sciences and illusions resides at an interdisciplinary crossroads. In helping us understand the brain and the visual system, illusions prove to be an engaging way to involve students in STEM—or STEAM—related activities (STEAM includes the arts). "I've given talks at high schools, junior high, elementary schools," he said. "And students are always very engaged in discussions of what illusions are and how you make a phenomenon that tricks you, and pulls you out of your comfort zone." 
Using Chemistry to Understand the World Around Us  
Chemistry professor Matthew Hartings, who teaches a popular chemistry of cooking class at AU, will use food to introduce challenging chemistry concepts to the students. 
"Chemistry is one of those subjects that many people shy away from. I have found that food is one of the best platforms for discussing some really complex chemistry with people who would otherwise be turned off by the subject," he said. "This is true for the students who take my chemistry of cooking course at AU. And, I am sure it will be true of the young students I interact with through the Fifty Nifty program. The depth with which you can engage in complex science is only limited by someone's fascination or interest in the topics you discuss."  
Harting's ultimate goal is to make science fun for young people. "With the Fifty Nifty program, I am not actively trying to proselytize that people become scientists. What I'm hoping to share is a contagious enthusiasm for using science to understand the world around us. And, if that enthusiasm is paired with a sampling of caramel sauce, then all the better!"  
USA Science and Engineering Festival   
The Nifty Fifty is a signature program of the USA Science and Engineering Festival, the nation's largest celebration of STEM. The festival, held in DC, was founded by entrepreneur Larry Bock and Ray O. Johnson, senior vice president and chief technology officer of Lockheed Martin. It features more than 3,000 exhibits and 150 stage shows focusing on science and engineering. AU is an exhibitor at the biannual festival. 
The next festival takes place on April 16 and 17, 2016.