Arts
Our Wicked, Wicked Ways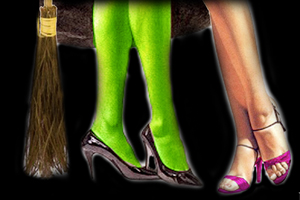 As a service to the community American University is hosting a cabaret performance, "Our Wicked, Wicked Ways," by the cast of Wicked this Monday at its Greenberg Theatre. All proceeds from this one-night engagement benefit Food & Friends and Broadway Cares foundation/Equity Fights AID's. Both organizations work to educate and support those with and effected by HIV/AIDS.
   
This unique performance will let audience members experience the vocal talents of many of Wicked's top stars in an intimate setting.

Founded in 1988, Food & Friends delivers over 2,800 meals per day to people in the metropolitan DC area suffering from AIDS or cancer. Groceries are delivered to those who are housebound yet able to cook and fully-cooked meals are provided to those unable to cook for themselves.  
   
Shannon Rice, SOC/BA'09/MA'12, volunteers at Food & Friends. "It was American University that drove my interest in community service after I participated in an Alternative Break study trip where our main focus was HIV/AIDS education in South Africa. When I returned home, I found Food and Friends, and I've been working with them ever since. I deliver meals to a number of DC residents every other week and have grown to have some really strong connections with them."

Broadway Cares is the largest industry-based organization raising money for the treatment of AIDS and/or HIV. The organization joins with different shows on and from Broadway to help raise money to support local and regional AIDS charities.  

Proceeds from this engagement will allow both Food & Friends and Broadway Cares to continue fighting AIDS and helping those affected by the disease. Similarly, endeavors that support and strengthen our community fulfill American University and the Greenberg Theatre 's ideal of transforming ideas into action and action into service.

"Our Wicked, Wicked Ways," a cabaret performance featuring the cast of Wicked, will be held at the American University Harold & Sylvia Greenberg Theatre this Monday, July 25, at 7:30 p.m. While all are welcome the evening is intended for mature audiences, and parental discretion is advised. Tickets may be purchased by calling the Box Office at 202-885-2587 or visiting american.tix.com.