Arts
An Oxymoron's Guide to Arts Management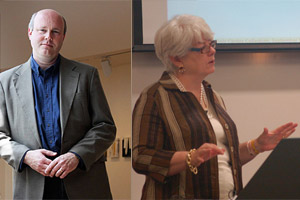 This discussion featuring Russell Willis Taylor (right), CEO and President of National Arts Strategies, and Andrew Taylor, Director of the Bolz Center for Arts Administration, was recorded at the AU Arts Management Colloquium, February 18, 2011.

Synopsis
Professional management of cultural enterprise can so often seem an exercise in opposites. Arts offer expression and creation; management encourages containment and control. While this dichotomy may be a myth, it's a pervasive myth that leads many arts leaders and arts organizations to be less creative, less transformative, and less joyful than the "art" in their title might suggest. Join two internationally experienced arts leaders as they challenge us and each other to connect the dots between art and business in more nuanced and impactful ways.
 

Speaker Bios
Andrew Taylor is director of the Bolz Center for Arts Administration, an MBA degree program and research center in the University of Wisconsin-Madison School of Business. An author, lecturer, and researcher on a broad range of arts management issues, Andrew Taylor specializes in business model development for cultural initiatives and the impact of communications technology on the arts.
Russell Willis Taylor, president and CEO of National Arts Strategies since January 2001, has extensive senior experience in strategic business planning, financial analysis and planning, and all areas of operational management. Educated in England and America, she served as director of development for the Chicago Museum of Contemporary Art before returning to England in 1984 at the invitation of the English National Opera (ENO) to establish the company's first fund-raising department.