Achievements
Phi Beta Kappa Zeta Chapter Welcomes New Members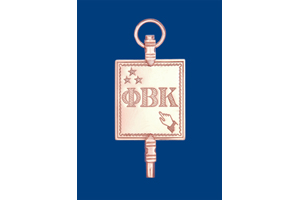 The College of Arts and Sciences is pleased to congratulate the 105 American University students that were inducted into the prestigious Phi Beta Kappa honor society on May 11. Both AU and the Phi Beta Kappa society advocate for excellence in the liberal arts and sciences and hold these fields in high regard. Each inductee was invited to the honor society because of outstanding commitment and high academic achievement in the liberal arts and sciences.
The invitation only honor society is extremely selective. Approximately 10 percent of the universities and colleges in the US have Phi Beta Kappa chapters and only about 10 percent of students at these institutions are selected for Phi Beta Kappa membership. All members are members for life.
The Phi Beta Kappa society is the oldest preeminent collegiate honor society for the liberal arts in the US. Established in 1776 at the College of William and Mary, Phi Beta Kappa now comprises 280 chapters across the nation. The AU Chapter, Zeta of Washington, DC, was founded in 1994. The Zeta Chapter has inducted 1,317 students since its founding, with 66 students inducted the first year and an average of 75 students inducted each year after.
AU is well suited to cultivate the values of Phi Beta Kappa. With the intimacy of a smaller college and strong intellectual enterprises, students at AU are able to pursue rewarding studies in the liberal arts.
A large number of Phi Beta Kappans are following in their family's footsteps. Tom Davidson's (BA political science '12) mother, Susan Stine's (BA international studies '12) father, William Hea's (MA international affairs '12) great-grandfather, Kelley Siart's (BA theatre '12) sister, Stefanie Hong's (BA art history '12) mother, and Molly Miranker's (BA human biology '12) sister are members. Sisters Kaitlin (BS biology '12) and Meghan Esson (BS economics '14) are being inducted together. Their mother and aunt are also members. Elin Harm (BA international studies '12) and her twin sister, who is graduating from the University of Wisconsin at Milwaukee, are both new members.
While at AU, inductees pursued a wide range of interests and research. Stefanie Hong took advantage of going to college in DC by volunteering in as many culturally and economically diverse environments as possible. She surpassed her personal goal of conducting at least 100 hours of community service each semester, all while being on the Dean's list each semester. Eric Fleddermann (BA international studies '13) will be the president of the AU Mock Trial team next year, working to get the team to the national championship tournament.
After graduation, Phi Beta Kappans are ending up in a variety of positions and graduate school programs. A few are highlighted here. Kaitlin Esson is starting an ecology PhD program at Georgia Tech, Neil Davis (BA international studies '12) is going to teach secondary Spanish in San Francisco as a Teach For America corps member, Carol Foster (BA Communications, Legal Institutions, Economics, and Government '12) will stay in DC to complete a master's in public administration at AU and work as a staff assistant for Senator Ron Johnson (R-WI), John Stefos (BA international studies '12) will work for Raytheon Company as a member of their corporate finance Leadership Development Program in Massachusetts, Tom Davidson will join Deloitte Consulting's Federal Practice as a strategy and operations analyst, Susan Stine will be serving in the Peace Corps, as an English as a Second Language (ESL) teacher in Latin America, Kelly Siart will be participating in the DC Teaching Fellows summer training program and then will begin teaching Elementary Special Education for DC Public Schools in the fall, Liz Richards (BA political science '12) will be working at the Democratic Senatorial Campaign Committee, and Molly Miranker will be interning at the Natural History Museum and pursuing opportunities to publish research.
Phi Beta Kappans dream big and reach their goals. Aletheia Orphanidys (BA international studies '12) "hopes to join Secretary Rice and Clinton (also Phi Beta Kappa members) and become a future US Secretary of State." The College of Arts and Sciences hopes that Orphanidys and all other inductees obtain their current and future goals.  
2011-12 Inductees
Corinne Abolafia
Rebecca Joy Anderson
Alexander Michael Battaglia
William Reece Beaudouin
Jordan Summer Brown
Paul James Bruene
Erin Elizabeth Cady
Sandra Cai Chen
Margaret Susan Campbell
Rafael Jose Cerame Guillen
Jacquelyn Noelle Cheng
Jesse Christine Creedy Powers
Thomas B Davidson
Neil Emery Stevens Davis
Taylor Dempsey
Julia Dieperink
Karen Dildei
Victoria Disston
Anastasia C Dolph
Merielle Donaldson
Tiernan Margaret Donohue
Christopher Benjamin Dychala
Kaitlin Colleen Esson
Meghan I Esson
Victoria Christine Fairchild
Mary Ann Fay
Allison Frishberg
Julianna Flanagan
Eric Fleddermann
Carol Elizabeth Foster
Kara Suzanne Frazier
Timothy Gallivan
Russell Anthony Gasdia
Marina Gonzalez
Stefanie Marie Graefe
Elijah William Griffen
Sarah Alexis Haack
Harmony H. Haft
Emily Violet Hall
Brian Hanson
Elin Claire Harm
William Bradford Hea
Rebecca Heath
Jordan Bernee Hillman
Hanaleah Jennie Hoberman
Maggie Hollander
Stefanie Lindsay Hong
Jesse Hubbard
Lindsay T. Inge
Jennifer Jones
Malina Katarina Keutel
Shelby Elizabeth Krick
Norma Alexandra Leaf
Laura Rose Lee



Marguerite Haley Lehleitner
Jonathan Lim
Michael Robert Litchfield
Benjamin Elfin Mainwaring
Matthew Makowski
Saundra Malanowicz
Christopher Malerich
Kaitlin McClure
Lauren McDonough
Kathleen White McKenna
Molly Miranker
Alaina Mulhearn
Michelle Nadeau
Daniella Napolitano
Eric Oliver
Aletheia Mae Orphanidys
Emily Anne Parker
Erin Wesley Phillips
Natasia Carine Poinsatte
Elizabeth Richards
Zachary Edward Robbins
Madeleine Roberts
Michael Roberts
Erik Roos
Kathryn Murphy Ryan
Kristine M Sackerlotzky
Elayna Christine Salak
Philip Salvador
Christina Sandwen
Miranda Nicole Schaeffer
Sophie Beth Schulman
Margaret Jessica Schwartz
Kelley Michelle Siart
Andrea Siwek
Lori Terese Sommerfelt
Casey Stansley
John Stefos
Susan Catherine Stine
Allison Clair Sylvester
Danielle Sandra Tatchio
Alexander Michael Thorp
Aaron Benjamin Turk
Megan Turner
Robert Van Kirk
Annelies Theresa van Vonno
Nicole Elizabeth Wallace
Zach Weinstein
Carley Wigod
Thomas Williams
Christina Monica Yasunaga
Ryan Youra
Martin Richard Ziech
Andrew Zytka