Department Spotlight
Business Ethics Certificate Launched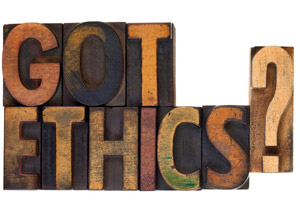 With its new Undergraduate Certificate in Applied Ethics and Professional Responsibility, AU is taking its offerings on business ethics to a new level. Developed by the College's Department of Philosophy and Religion, with the cooperation of Kogod School of Business, the program provides business students with a comprehensive foundation from which to build their own ethical positions.
"Increasingly, we hear about fall-outs resulting from lapses of ethical judgment in business—from the Enron scandal, to BP's handling of the oil spill in the Gulf of Mexico, to deadly coal mining accidents that could have been avoided," says Ellen Feder, professor and chair in the Department of Philosophy and Religion. "It occurred to us that business students could really benefit from more active ethical reflection during their studies."
The certificate will also serve to give business students an extra edge. "We expect that students who complete the certificate will have an advantage over other business graduates, as employers want to hire those with a demonstrated commitment to ethical decision-making," says Kathleen Getz, Kogod's senior associate dean for academic affairs. "Over time, as our graduates rise to leadership positions, they will help to maintain high ethical standards in their own organizations."
The 18-credit certificate program includes a combination of ethics-related courses taught through Kogod and the Department of Philosophy and Religion. It is open to both degree and non-degree students. For a complete program listing, please visit the certificate Web page.