Research
Professor Reconceiving the Epic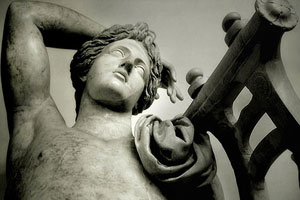 Philosophy and religion professor Shubha Pathak aims to shed new light on old subject matter this summer, thanks to a Faculty Research Support Award given through the Office of Academic Affairs.
Pathak was awarded the prize to fund her research concerning later epics of ancient Rome and India. The award will help her hire a research assistant, as well as to purchase primary sources and commentaries on them. The research she will conduct this summer will be the basis of her second monograph manuscript, tentatively titled Love as the New Divine: Reconceiving the Epic in Ancient Rome and India.
Her work will begin with reading epic works of the ancient poets Ovid and Kalidasa in their original languages, Latin and Sanskrit respectively. From there she plans to read commentaries on those works, as well as studies of their authors. "Learning more about the compositions and earlier interpretations of these poems will help me develop my own ideas about them," she says.
Through this research, Pathak hopes to trace a change in the way epic authors relate to their gods. "What interests me is that older epics, like the Iliad and Odyssey, are each written by many people. But each of the later epics is written by an individual author, who—I think—is trying to create a personal relationship with his gods," she says. "So he presents them as figures who are flawed, more like humans in making mistakes and not having all the answers—figures who are easier to relate to."
With the age and literary status of the works that Pathak is studying comes a mixed sense of appreciation and apprehension. "The challenge arises in asking what new things I can say about something that has been around for thousands of years," she says. "What makes my work on the epics easier is the fact that these are classic texts. They're rich enough so that people in each new generation can approach them effectively on the basis of their particular experiences and insights," she says.
Pathak is currently finishing her first monograph manuscript, Divine Yet Human Epics: Reflections of Poetic Rulers from Ancient Greece and India.