Liberal Arts
Philosophy Conference Examines Link between Film and Politics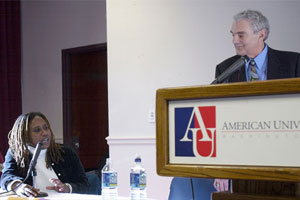 American University's Department of Philosophy and Religion held its 18th annual McDowell Conference on Philosophy and Social Policy on Friday, October 30, in the Butler Board Room. This year's conference focused on the relationship between ethics and documentary filmmaking.
The event featured six speakers with backgrounds in philosophy and filmmaking: Douglas Kellner of the University of California–Los Angeles, Paul C. Taylor of Temple University, Ronit Avni of Just Vision, and three American University professors: Patricia Aufderheide of the School of Communication, Farhang Erfani of the College of Arts and Sciences' Department of Philosophy and Religion, and Jeffrey Middents of the College's Department of Literature.
Each speaker will discuss the relationship between politics and film from a philosophical perspective.
Philosophy professor and conference organizer Jeffrey Reiman started the McDowell Conference nearly 20 years ago in order to create an open venue for philosophical discussion that would appeal to AU students and faculty, as well as the D.C. community. "We want to show how philosophy works in everyday life," says Remain. "It's not just an ivory tower discipline."
Past conferences focused on major social issues such as abortion, euthanasia, racial tolerance, ethics and genetics, and the welfare of the poor.