Science
Engineering Opportunity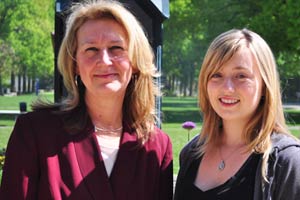 When Caitlyn Quinn, BS business '10, volunteered to help physics professor Teresa Larkin research the role of women in engineering, her interest was both professional and personal. "I feel like there's real value to this research because, as a woman, these are obstacles that I might one day face in the science field," says Quinn, who plans to pursue graduate studies in physics.
Since last summer, the applied physics minor has worked with Larkin to explore gender disparity in the field of engineering, the "glass ceiling" faced by women who seek to advance their careers in the sciences, and the mentoring programs that professional organizations offer women as they advance their careers in these fields. To do this, the pair examines empirical and longitudinal studies from a variety of angles—including historical, cultural, and educational perpectives.
Thus far, Quinn has worked with Larkin on three projects. The first, entitled "Women's Leadership in Engineering," will be included in the forthcoming Gender and Women's Leadership: A Reference (SAGE publications, fall 2010). They have also been busy coauthoring two papers: "Women in Engineering: Past, Present, and Future," which Larkin recently presented at the International Conference on Engineering and Technology (INTERTECH'2010) in Ilhéus, Brazil, and the upcoming "The Feminine Side of Engineering," which will be submitted to the 2010 Frontiers in Education Conference.
The pair describes their relationship as an academic partnership. "I feel like we're colleagues because we work so closely and give each other the same amount of criticism," says Quinn.
Larkin agrees: "While Caitlyn is currently an undergraduate, she has really be doing graduate-level work [on this project] all along." Quinn plans to work for NASA this summer and then eventually hopes to go on to graduate school in physics.