International
International at AU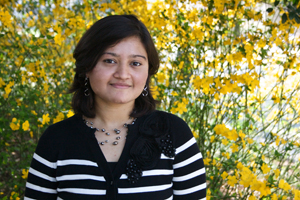 Countless AU students feel the nerves and pressure of attending a university away from home, and while some come from across the country, others come from even further. American University continues to draw students from all over the world with its innovative programs and supportive environment for international students. When Priyadarshini "Pinkie" Komala, BS computer science '12, of Chennai, India, decided to travel outside of her homeland to attend college, American University seemed like a natural choice.
"I was looking for a school with the right balance of education and personal development opportunities," says Komala. While she knew she wanted to pursue a computer science degree, she wanted to explore aspects of American culture firsthand. "The course structure and the wide array of general education courses gave me a sense that I could explore and experience a variety of areas and help me judge my core interests."

Despite her parents' support, coming to school in the United States was no easy task for Komala. "Considering I had never traveled outside of India without family, leaving them behind and traveling across the world by myself was unimaginable," she says. "The idea of living an independent life at such a young age in a new environment was hard, but now I see it as a worthy tradeoff."
Komala had the advantage of seeing the benefits of an AU degree before she enrolled. Her sister Priyanka graduated from AU with a master's degree in computer science in 2009. Komala says her sister's experience made AU slightly less intimidating despite being thousands of miles from home. "It helped me to get insight into what life is like here at AU, and so I was prepared for what to expect." Priyanka currently works at the National Academies of Science in Washington, D.C., and is pursuing an MBA at the University of Michigan.
Komala has been interested in computer science since she was very young. "Computer science has been a fascination of mine since I was a child," says Komala. "It forms the backbone of the technology revolution and has touched virtually every aspect of our lives. The impact it has on a broad spectrum of fields ranging from art to medicine to the environment is extremely fascinating."
Komala's passion is reflected in her success in the field. She competed in the Association of Computing Machinery's Inter-Collegiate Programming Competition with her team (one of four AU teams) and placed in the top 20 out of 160 teams. She also won a National Science Foundation grant alongside Professor Michael Black to conduct research regarding simulators for teaching computer organization. "This research really resonated with my personal goals," says Komala. "It allows us to make an impact on society by enhancing the outreach of computers to fellow students to kindle their interest in them."
Alongside her academic pursuits, Komala takes advantage of opportunities outside of her major. On campus, her paintings have been exhibited in Katzen as a part of her studio art minor. She is one of the few art minors to have their work exhibited in Katzen. She has used AU's invaluable location in Washington, DC, to get hands-on experience in the field as an intern at Sirius XM Satellite Radio, first as an information technology compliance and security intern and now as a product marketing intern. She also volunteered at Job Squad, a DC-based non-profit that coaches homeless individuals in the computer skills they need to write resumes and cover letters and to fill out online job applications.

Komala praises the university as being extremely accommodating and helpful in her process of adjusting to life in the United States. "Everyone was helpful and understood the needs and potential issues of an international student," she says. "Everyone was considerate and respectful of my opinions and really made me feel welcome." She specifically cites the efforts of the University Honors Program and the Office of International Student and Scholar Services (ISSS) at AU. ISSS, which works with the more than 1,000 international students and scholars from over 100 countries who attend AU, helps students get acclimated to life at an American university and facilitates enriching cultural experiences for students including an event for Diwali (a Hindu festival of lights) and the extremely popular university celebration of Holi, a religious spring festival.

When she thinks back on her time at AU, Komala expresses the gratitude she feels for the wide range of opportunities and challenges that the school has given her. "I was excited to come to AU," says Komala. "But little did I imagine I would have the opportunity to experience so much while honing my leadership skills and balancing my classes and responsibilities. Managing it all has been the most rewarding experience."