Literature
Creative Writing Alumni Win Accolades and Awards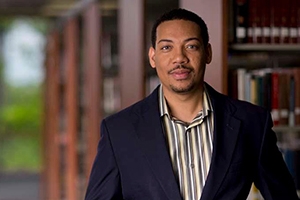 Poet Abdul Ali (MFA '13) is the latest in a series of creative writing MFA graduates to be honored for his work. He recently won the highly competitive 2014 New Issues Poetry Prize, which draws 1,000 submissions each year. New Issues will publish his book of poems, Trouble Sleeping, in spring 2015.
"Trouble Sleeping, Abdul Ali's debut full length collection, situates him beside such New Issues writers as Sandra Beasely, Mark Irwin, and Paul Guest," says poet David Keplinger of the Department of Literature. "It is a work of great energy and wisdom, at whose center lies a quiet place of rest and knowing."
Ali credits AU for helping him to develop his craft. "The most important gift AU gave me was permission to see my own artistic vision, even if things looked hazy at the beginning," he says. "The faculty in the graduate Creative Writing Program were all superior, masters of their craft, generous mentors. They made me feel as if they were genuinely happy to have me in the program."
"Abdul has always been very professional and focused on the shape and character of his final product," said Kyle Dargan, a poet and creative writing professor. "It is not a surprise that he's been able to put forward a prize-winning manuscript so soon after graduating from the MFA program."
Ali's poetry, essays, and interviews have appeared in Gargoyle, Gathering of Tribes, National Public Radio, New Contrast (South Africa), The Atlantic, and the anthology Full Moon on K Street, among other publications. He has received grants, awards, and fellowships from The DC Commission of the Arts and Humanities, the College Language Association, and the Mt. Vernon Poetry Festival at George Washington University. Ali teaches at Towson University in Maryland.
Other Awards, Honors, Distinctions
Over the past several years, recent graduates from AU's creative writing MFA program have been recognized in the genres of fiction, nonfiction, and poetry. They have received prestigious fellowships, won national writing awards, been interviewed by major media outlets, and widely published in a variety of journals including Copper Nickel, Nimrod, Poet Lore, and Circumference.
The New York Times' recent poetry issue featured alumna Sandra Beasley (MFA '05) as one of its four debaters on the craft. Mark Cugini (MFA '11) founded the magazine Big Lucks and recently published his first collection, I'm Just Happy to Be Here (Ink Press 2013). Cugini also runs the popular DC reading series, Three Tents. In May 2014, Jenny Molberg (MFA '10) learned that her first full-length collection, Marvels of the Invisible, will appear from Tupelo Press as winner of the Berkshire Prize.
Following are four other recent graduates who have made names for themselves since graduating from the MFA Program in Creative Writing at AU.

Chet'la Sebree (MFA '13)
Poet Chet'la Sebree was awarded the prestigious 2014-15 Stadler Fellowship at Bucknell University, awarded to one recent creative writing MFA graduate in poetry each year. "As the Stadler Fellow, I will have the opportunity to work on Bucknell's distinguished literary magazine, West Branch, assist in the administration of the Stadler Center for Poetry, and work with Bucknell's Seminar for Younger Poets," said Sebree. "It is an opportunity that allows me to dabble in multiple realms, while also focusing my attention on my collection."
While studying at AU, Sebree was a 2011-12 Folger Shakespeare Theater Lannan Fellow and worked for Poet Lore and 491 Magazine. She was a 2013 finalist for the Hub City Writers House Nine-Month Residency in South Carolina. She is currently at work on her first book, The Ease with which Everything Fails.
"I came to AU as a terribly timid 22-year-old who was in awe of the third year poets. I was sure I didn't belong," said Sebree. "I am forever indebted to the people at AU who proved me wrong. I am thankful for those people who helped entrench me in the community and who made me feel like I belonged as adjunct faculty, a staff member, and student, and, above all else, a poet."

Sara Blaisdell (MFA '12)
Shortly before graduating from AU, Blaisdell moved to Utah where she completed a collection of poems inspired by her post-undergraduate years as a counselor and by the landscape of the American West.
Her nonfiction also explores that region, but it was her study of an intercontinental friendship between her husband and three Iraqi brothers during the Iraq War that earned her the opportunity to be featured on This American Life in 2010.
"Sara is one of those rare students who comes in to class seemingly fully formed as a writer; her voice was so strong, so full of grace and beauty," said creative writing professor Rachel Louise Snyder. "The fact that she landed on This American Life for her first publication is almost unheard of. There are veteran writers who will never place a piece in a venue like that. It's a huge career starter, and speaks to the absolute quality of her work."

Valzhyna Mort (MFA '11)
Valzhyna Mort is the youngest person to ever be featured on the cover of Poets & Writers magazine. Born in Minsk, Belarus, Mort writes and reads her poetry in English and Belarusian. In a New Yorker review of Factory of Tears, her first poetry collection, Mort was described as "an envoy for her native country, writing with almost alarming vociferousness about the struggle to establish a clear identity for Belarus and its language."
"Valzhyna entered our MFA Program in 2008. She had already appeared on the cover of Poets & Writers magazine that previous spring," said Keplinger. After graduating from AU, Mort published her second book, Collected Body, with Copper Canyon Press, and she now teaches at Cornell University.
"Mort's work, for all its lyricism and language-play, draws enormous crowds at poetry readings," said Keplinger. "Her work is grounded in the imagery of Eastern Europe, influenced by such writers as Russian poet Anna Akhmatova and Polish poet Czeslaw Milosz. But it is also strongly narrative. Collected Body, while considered a book of poetry, is also wrought with imaginative, gripping prose."

Greta Schuler (MFA '11)
Greta Schuler has completed fellowships at The MacDowell Colony and at Yaddo, where she held the Dorothy and Granville Hicks Residency in Literature. She currently lives in Melville, South Africa, and her work reflects this international setting. "Much of Greta's fiction and nonfiction is set in African countries, most notably Zimbabwe," said Keplinger. "As an American writing from far off places, her writing often embodies a longing to connect. This urge to connect fuels each piece with conflict."
Schuler's work has appeared in Creative Nonfiction as the winner of the magazine's 2009 MFA Program-Off Contest, in the Crab Orchard Review as the winner of the journal's 2010 Jack Dyer Fiction Prize, in the Chattahoochee Review as the winner of the journal's 2012 Lamar York Prize, in the New Guard, in Cutbank, and in the Drunken Boat.
"Greta is arguably the most fearless student I ever worked with. I have a special kinship with her because like me she works in multiple forms: fiction, memoir, literary journalism," said Snyder. "She's insatiably curious and whip-smart, and her writing is full of muscle and soul, full of all these wonderful voices of people she meets in far-flung places. Sometimes she's writing to me from Zimbabwe, and then just a couple of weeks later she'll be at some writing conference in New England. She is utterly determined to carve out a writing life, and I have so much respect for her discipline and talent."