Research
Treatment in Stages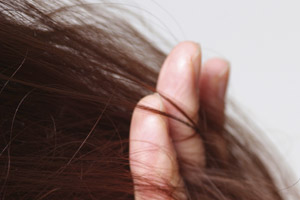 As director of the on-campus James J. Gray Psychotherapy Training Clinic, Professor David Haaga sees plenty of cases of trichotillomania, a condition in which patients have visible hair loss resulting from habitual hair pulling. This is no surprise in itself; trichotillomania—sometimes called "trich"—is a common disorder that affects roughly one percent of the population.
What Haaga did find interesting, however, was how frequently these patients had delayed seeking treatment for the condition. "By the time we would talk to people, they had usually had the condition for a long time and hadn't sought out help until then," he says.
This observation inspired Haaga to explore the efficacy of treating trichotillomania using a stepped care model that begins with low cost, minimum intervention treatment and introduces specialty treatments, such as personal counseling and prescription medications, only if necessary.
Earlier this month, Haaga received a National Institutes of Health (NIH) grant to test his hypothesis using a two-step treatment program. Step 1 will involve 10 weeks of self-help treatment guided by StopPulling.com, an on-line, interactive program designed to help patients develop strategies for combating the condition. After the 10-week period, patients may choose whether or not to proceed to step 2, an eight-week personal counseling session. The award will total nearly $200,000 over the course of three years.
Haaga hopes that identifying effective, simple early treatments will encourage patients to seek out early intervention—something that will help trichotillomania sufferers across the spectrum of severity. "It's easier to help patients make behavioral changes if we intervene early," he says. "This cuts down on the suffering of these patients and reserves specialty care resources for those who really need them."