On Campus
AU Hosts Interdisciplinary Intramural Public Health Case Competition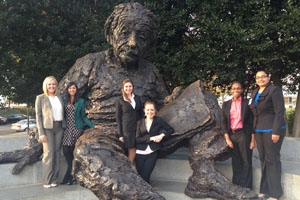 The AU Public Health Program is calling for participants for its second annual Intramural Public Health Case Competition. Teams of students will be presented with a real-life public health issue and challenged to develop strategies to solve the issue.  
The competition, modeled after Emory University's Global Public Health Case Competition, is open to students across the university. "It is a unique opportunity for AU graduate and undergraduate students from multiple schools and disciplines to come together to develop innovative solutions for 21st century public health issues," said Jolynn Gardner, director of the Public Health Program. "Participating in the competition will provide an opportunity to develop strategies for real-world problems, a critical experience for all students." 
Gardner said this year's case will focus on global mental health. Once the case is released to the teams, they will research the case and develop an intervention, policy initiative, or other strategy to address it. "Teams will apply their academic knowledge and skills to crafting solutions for real issues. The competition really encourages innovative collaboration across disciplines and academic units." 
How to Participate  
The first step is to form a team and submit a team roster to jgardner@american.edu by Friday, February 6, 2015.  
Team Guidelines: 
Teams must consist of four to six students.

Teams may include graduate and undergraduate students from any academic units of American University.

Teams may have no more than two graduate students.

The teams must be interdisciplinary in nature, with a minimum of three distinct disciplines being represented.

At least two members of each team must be from the College of Arts and Sciences.
How it Works

The case will be developed by AU's Public Health Program and will be delivered to the teams on February 11, 2015. Students will have two weeks to prepare a strategy to address the issues presented in the case; faculty may be consulted as resources, but are not allowed to contribute to the strategy. 
Students will present their case solutions on February 25, 2014, to a panel of public health professionals. Each team will prepare a 15-minute presentation. Each presentation will be followed by 10 minutes of questions from the panel of judges, who will then determine the winner.

Prizes 
Prize Money will be awarded for first, second, and third places. The grand prize is $1,000; second place is $500; and, third prize is $300. 
For More Information 
Questions? Contact Jolynn Gardner, director of the Public Health Program, at jgardner@american.edu.