Achievements
Public Health Competition Presents Real-World Issues
Winning team creates HOPE Project to help mental health crisis of Syrian Conflict.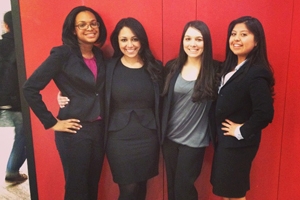 What would you do if you ran an international nonprofit organization and just received a $500,000 grant to address the mental health crisis of displaced Syrians in Turkey and Lebanon? 
This was the question confronting six teams in AU's 2015 Intramural Public Health Case Competition. Each team of four-to-six students was given the "case" details two days before the competition. They had to research the issues, develop strategies, and prepare an action plan responding to the crisis. 
The teams presented their plans to five judges: Tabitha Mann from USAID; Annina Burns from the Centers for Disease Control; Richard Bebout from mental health nonprofit Green Door; and Bruce Points and Jessica Bress from the DC Department of Behavioral Health.
"The event was a great success," said Jolynn Gardner, director of AU's Public Health Program. "All six interdisciplinary teams presented very innovative, well-researched strategies to address the case. The judges commented on how impressed they were with all of the presentations."
The Challenge
The teams were told that they would be focusing on the mental health crisis of displaced Syrians living in camps in Turkey and Lebanon. The war has taken its toll on Syria's citizens; in addition to being displaced, many have witnessed or have been victims of extreme violence. It has been estimated that one third of displaced Syrians suffers from severe emotional disorders such as depression, anxiety, and post-traumatic stress disorder—but there are few supports available for healthy grieving. 
The teams were told that they would represent an international nonprofit agency that provides consulting services on mental health interventions. This nonprofit has received a $500,000 two-year grant to help address the mental health crisis of displaced Syrians. The teams were tasked with developing strategies and an action plan for the nonprofit as it works to help solve the crisis. 
The Winning Team
The first-place team created The HOPE Project, which would provide the youngest generation of the Syrian refugee population with the cognitive behavioral tools to prevent the development of conflict-related mental health disorders. The HOPE Project would deliver a 12-week afterschool curriculum for children ages four-to-seven. It would help these children to develop coping skills, manage anxiety, build friendships, and cultivate resiliency.
Team member Lisell Perez-Rogers (BA law and society) said, "We decided to focus on children between the ages of four and seven because children at that age are in the pre-operational stages of development, and we felt that at this stage our intervention would have the most successful and lasting impact on their mental health."
In preparation for the competition, Perez-Rogers's team worked hard to research the plight of displaced Syrians. "We were able to get a feel of the camp environment by researching the conditions, such as their infrastructure, the education provided at the camps, their freedom, safety, and their everyday life routines," said teammate Deyanira Soriano (BS public health). "In addition, we researched the predominant religion, and how that may plan into their customs, beliefs, and hesitation to outside help or foreigners. We wanted to acknowledge all the factors that may contribute to their mental health status, and what can limit our contribution, or create obstacles in our preventative intervention approach."  
A Winning Strategy
Gardner said that the winning team's presentation stood out. "They presented a stakeholder analysis, evaluated strengths, weaknesses, opportunities, and threats; prepared a logic model; and thoroughly researched a feasible and practical strategy to address the issues of the case," said Gardner. "Additionally, they based their approach on solid theory. They created a very thorough evaluation plan, which directly reflected the desired outcomes. The winning strategy also reflected the reality of the need to utilize limited funding to achieve the greatest good; thus, their strategy was targeted and precise." 
The winner team members said that the competition was an opportunity to put their pubic health coursework into practice. "I learned an incredible amount from my teammates and our research, and I also made new friends through the process," said Perez-Rogers. Her teammate Victoria Bera (BA public health) agreed. "It allowed me to be a part of a team and exercise the kinds of skills and thought processes that go into crafting a solution to a real-world public health problem," she said. "In addition, it helped me confirm my passion for the public health field."
The HOPE Project team, which won a $1,000 prize, included:
Victoria Bera (BA public health)
Deyanira Soriano  (BS public health)
Genessi De Los Santos (BS public health and Spanish studies)
Lisell Perez-Rogers (BA law and society)
The Runner-Ups
Gardner praised the work done by all the teams. "The second and third place teams also based their strategies on sound theory and feasible goals," she said. "They also presented very creative ideas and expertly utilized logic models to support their approaches."
Second Place Team ($500 Prize)
Palak Bhatnagar (BA public health) 
Madison Hayes (BS public health)
Shreya Veera (BS public health)
Shraddha Batra (BS biology)
Ellery Spahr (BA public communications)
Third Place Team ($300 prize)
Megan Niegisch (BA public health) 
Abhiramie (Abbe) Ramanan (BA international studies)
Sarah Yahoodik (BA psychology and business administration)
Tula Biederman (BA public health and women's gender and sexuality studies)