On Campus
Three-Year Public Health Cohort Program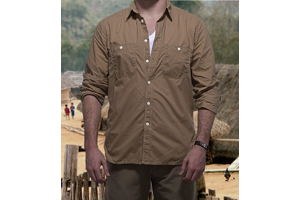 AU's Public Health Program, which launched this year to extremely positive feedback from students and over forty of them signing up to take Introduction to Public Health in its first semester, is raising the bar even higher. In fall 2012, the Public Health Program will kick off its brand new three-year cohort program designed to give incoming freshmen a hands-on, service-based public health education while attaining the BA in public health in three years instead of the typical four.

"This program will allow students to begin working in the community from the minute they step on campus," says Dr. Lynne Arneson, interim program director and premedical advisor. "Students will immediately be engaged in fieldwork."

The cohort program, which is currently recruiting prospective students, is designed for students who want to earn a bachelor of arts in public health over three academic years and the two summers in between. Students who are accepted to the program, which requires an additional application to be completed along with students' applications for admission to the university, will participate in a Living Learning Community in which students will live on the same floor of a residence hall and participate in enrichment activities designed to help students further explore the public health field while taking a special section of Introduction to Public Health designed specifically for those in the cohort program.

The special section will include the addition of a fourth academic credit, which students will earn by rotating through Center for Community Engagement and Service projects throughout DC. Community service projects will deal with issues ranging from nutrition to women's issues to geriatric issues, as well as many other areas of public health specific to the DC community. Program associates, or PAs, will also live in the Living Learning Communities to help facilitate learning experiences outside the classroom. "Public health is a hands-on field," says Arneson. "It just makes sense to get students out in the community as soon as we can."

Professor Brenda Kirkwood, a public health doctoral candidate at George Washington University, joined AU's Public Health Program this summer as its assistant director after creating a similar program at the University of Albany. In addition to teaching Introduction to Public Health, Kirkwood is working to design unique internship and fieldwork opportunities for students in various DC health institutions, including the National Association of County and City Health Officials, the American Red Cross, and the Department of Health and Human Services. "National studies have shown that students benefit from having access to a public health program at the undergraduate level," says Kirkwood. "The students here have such a strong drive to understand public health and to make a difference."

Students in the cohort program will study abroad in the fall of their second year, choosing from among specialized public health programs in locations selected by the program with student input. The summer before they go abroad, the cohort will participate in an enriched academic and social program at AU that accentuates experiential learning and other components of a college experience. Students will take courses designed to introduce them to their destination country and to the public health condition in many developing countries. "Students will learn about the language, food, culture, politics, and health situation of the country they will be visiting before they even leave campus," says Arneson. "This will allow them to be best prepared for the academic and hands-on field work students will participate in abroad." The program is currently looking into designing one of the abroad options to take place in Manipal, India which is currently facing myriad public health challenges.

The summer after their second year, students will pursue a public health internship while also taking several courses. Students will not be required to stay in DC over that summer. Courses will be offered online, and the program's advisors will work with students to find hands-on public health opportunities in students' home communities or in other parts of the country. "Public health problems exist wherever you go," says Arneson. "We want students to have experience working in a variety of communities."

Public health students take courses across multiple academic departments including global health in the School of International Service and bioethics in the Department of Philosophy and Religion. "Public health is a truly interdisciplinary field," says Arneson. "Students come out of the Public Health Program well-rounded and ready take on a wide variety of career paths."

Arneson says that while there is some set structure to the cohort program, there is enough flexibility to allow students to take the electives that will allow them apply what they are learning in the subfields that are of most interest to them. "Whether it's health economics, health communication, health education, or premedical studies," says Arneson, "studying public health can be taken in so many different directions."

Arneson says AU's Public Health Program differs from others like it because of the freedom that students have to adjust the program to the work they want to do. "We're not affiliated with a school of medicine or solely focused on medicine," says Arneson. "We utilize all of the amazing social science and natural science resources we have at AU to make public health a field that a wide variety of students can benefit from, not just those who want to work in the medical field."

Early decision applicants must apply by November 15; regular decision applicants must apply by January 15. For additional information, visit the Public Health Website.