Humanities
A Passion for National Parks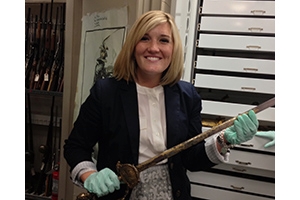 Mattea Sanders has known since she was 18-years old that she wants to pursue her love of history in the form of a career with the National Parks Service. "I realized right off that bat in high school that I wanted to major in history," Sanders says. "It was something I had been interested in ever since I was little. And from the beginning, my parents pressured me about what I was going to do with a degree like that." 
When she was 18, in an effort to prove to her parents and herelf that her dreams were possible, Sanders applied to a service internship at Appomattox Courthouse National Historic Park. However, rather than an unpaid internship, the park offered her a part-time paid position. Sanders loved it immediately. "The first day I remember putting on the Smokey the Bear Hat as part of the uniform, and I was just amazed that I was really about to do this job," she says.  
The experience brought with it an enormous amount of responsibility. "The people I was speaking to believed everything I said about the park, and that's a lot of power, expecially considering I was 18 years old." Sanders says. "They have come to believe that the National Park Service is a source of authority, and that standard is very important to uphold."  
Sanders interned at the Appomattox Courthouse for two summers, before going on to spend a semester at Gettysburg College as part of a semester exchange program. While there, Sanders' eyes were opened to the world of public history, and she followed her burgeoning interest to Washington, DC. "It was my dream as a child to work in DC," she says. "I remember I came for my visit to American, and it was sort of like the Hollywood music was playing in my mind because, for public history at least, DC is Hollywood."  
Now a second-year master's student at American University, she is working on her degree in American history with a concentration in public history. She praises the public history program at AU, and Professor Kathleen Franz, for furthering her experiences in the field. "Instead of writing a 500 page book about history," Sanders says, "you're going to write an exhibit to display in a museum, to show the normal public 'what is history'. Not just dates and places, but things that can really get them involved," Sanders says.  
The program allows students to work through a two-set series of classes designed not just for historians or people willing to comb through endless pages of historical texts, but for those seeking to engage audiences and encourage the public to involve themselves in something important. "The program is designed for people who want to work with museums and institutions in a variety of ways," she says. "You could work in management, you could be an archivist, or a curator."  
Her studies in the program included an oral history class, where she came across a connection between the Cherokee Indians and the National Park Service. Working with this project has given Sanders a focused direction for her preferred career: working where she can be plugged in to the communities of public history and Native American history.  
Sanders met with the chief of the Eastern Band of Cherokee Indians in South Carolina, who told her about a problem at the time concerning a dispute between the National Park Service and Cherokee Indians over ramps, a wild plant which the Cherokee like to collect for rituals. The patches are often passed on through generations and make up a part of their kinship network. However, as many of the patches grow on National Park Service land, it is up to the current superintendent to decide if they are allowed to continue the harvest. The debate has gone back and forth since the 1890s, with diffferent verdicts each time. Sanders wants to continue to study that relationship and the relationship between the Native Americans in the South and the Federal government. 
"I was really interested in studying National Park Service history, but until now I didn't know what aspect," she says. "This was just such a massive project that needed to be done, because it hadn't been looked at before. And I just became so inspired by the scope and possibilities of it. I can't wait to see where I go with it next."