Humanities
Creative Writing Professor Publishes New Novel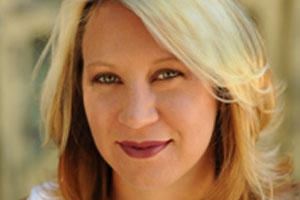 Rachel Louise Snyder—creative writing professor, investigative journalist, public radio commentator—can now add another line to her résumé: novelist. Her first novel, What We've Lost Is Nothing (Scribner, 2014), chronicles the 24 hours following a series of burglaries in a Chicago suburb.  
The book received glowing reviews. Booklist described it as "a muscular and fearless debut novel that boldly tackles the heady themes of prejudice, self-preservation, poverty, and privilege." The Washington Post said it has "the stamp of authenticity." Vogue.com named it one of the 10 best suspense novels in spring 2014.
Snyder had been living and working as a journalist in Cambodia for six years when she decided to write a novel. She was interested in exploring the dual sides of a tragedy. "My mother died when I was very young, and I learned the importance of making one's life count," she explains. "Experiences like this shape how you see the world. I gravitate towards the dark and how people manage to pull light out of those moments." 
Snyder set her novel in the Oak Park neighborhood of Chicago, known for its racial diversity and progressive housing policies. After graduate school, Snyder worked in Oak Park as a resident manager of an apartment building, which gave her insights into the community and its residents. It also provided the perfect setting for tackling issues of race and socio-economics through fiction.

"I've always been interested in social justice," she says. Her career as a journalist reflects that passion. Snyder has traveled to more than 50 countries, writing about women's rights in Afghanistan, the Dalai Lama's exile in India, the tsunami in Indonesia, and genocide in Cambodia. 
In her first book, Fugitive Denim: A Moving Story of People and Pants in the Borderless World of Global Trade (W. W. Norton, 2007), she maps the global garment industry, beginning in a New York showroom and tracking backwards to a denim maker in Italy, a factory in Cambodia, and a cotton picker in Azerbaijan. 
Snyder also has written about a wide range of subjects closer to home, from missing soldiers to rock stars to domestic violence. Her 2013 article for the New Yorker, "A Raised Hand," identified a new approach for preventing domestic violence from escalating into domestic homicide, and she currently is writing a story for the New York Times Magazine about familicide. She has written for Slate, Salon, the Washington Post, the Chicago Tribune, New Republic, Travel and Leisure, and Glamour, among others. She hosted the nationally syndicated global affairs series Latitudes on public radio, and her stories have aired on This American Life and All Things Considered. 
Snyder currently teaches literary journalism and other related courses in the College's creative writing MFA program. She says she's been lucky to see a lot of students get published in top-notch venues. "I've seen graduate students come in showing just an inkling of promise; then suddenly their writing explodes," she says. "They come into themselves as writers. It's an extraordinary process." 
Opportunities and second chances for young people are very much on Snyder's mind these days as she begins work on a memoir. "My story is about a life of movement," she says. "I was kicked out of my house when I was 16, and I dropped out of high school and lived in my car for months. But eventually I found my way to college and then to grad school. I was offered not only one huge second chance — but chances again and again from so many different people and places." 
Perhaps the biggest thing that makes good writers stand out both inside and outside the classroom, she says, is their determination. "I have written about everything from Canadian geese to suburban youth soccer. I never said no to a writing project. I've always just wanted to write."