On Campus
Author Ravi Howard to Appear at AU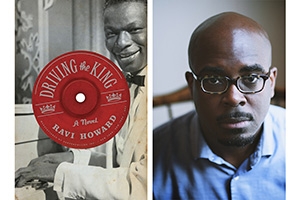 As part of the annual Visiting Writers Series, presented by the Department of Literature, author Ravi Howard will appear at AU on Wednesday, September 30, for a reading of his work. He will appear at 8:00 p.m. in the Board Room of the Butler Pavilion (sixth floor).
The event is free and open to the public.
"I have known Ravi from his time as writer with NFL Films, and it has been a pleasure to watch his work evolve and find an audience," said Kyle Dargan, associate professor of literature. "He is a part of an important generation of new southern writers who love their homes and heritage and, specifically because of that, attempt to honestly render the painful, conflicted history of that region—particularly so for African-American southerns. He is very smart about his craft as a novelist—definitely someone budding writers can learn from."
Howard's first novel, Like Trees, Walking, won the 2008 Ernest J. Gaines Award for Literary Excellence and was a finalist for the Hemingway Foundation/ PEN Award. His new novel, Driving the King, chronicles the life of singer Nat King Cole's childhood friend and driver as the pair negotiates pre-Civil Rights America.
Howard has received fellowships and awards from the National Endowment for the Arts, the Hurston/Wright Foundation, Bread Loaf Writers' Conference, and New Jersey State Council on the Arts. His work has appeared in Callaloo, the Massachusetts Review, and the New York Times. It also has been featured on NPR's All Things Considered. As a sports producer with NFL Films, he won an Emmy in 2005 for his work on Inside the NFL. He lives in Atlanta, Georgia.
For More Information
For more information and a full calendar of events for the Visiting Writer's Series, visit  http://www.american.edu/cas/literature/mfa/visiting-writers.cfm