On Campus
A Celebration of Research: Interdisciplinary Institutes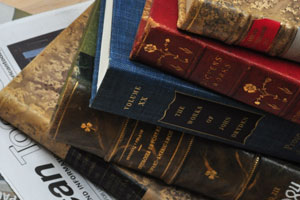 The following new centers and institutes launch soon, delving into a wide-range of research: Center on Health, Risk, and Society (Sociology), Institute for Innovation in Education (SETH), Info-Metrics Institute (Economics), Center for Community Voice (Anthropology), and the Center for Israel Studies (Israel Studies).
To mark these exciting accomplishments, please join Dean Starr and faculty for refreshments and discussion at the College's first annual "Celebration of Research" on Wednesday, October 27, 2010, from 4 to 6 p.m. at the Katzen Art Center's Kreeger Lobby.
The Center on Health, Risk and Society, managed by the Department of Sociology, will support an interdisciplinary community of AU scholars concerned with the social dimensions of health risks and interventions.
"Typically, research centers focused on health are dominated by basic and clinical science perspectives," says Kim Blankenship, the director and sociology department professor and chair.
"As important as these perspectives are, there is a real need to build a sophisticated understanding of health and risk as social phenomena."
Center scholars are currently focused on HIV/AIDS-related issues, both domestic and international. Their work will provide a foundation for future projects on such topics as public health and public safety, the politics of health research, and violence and health risks.
The American University Institute for Innovation in Education, administered by the School of Education, Teaching, and Health (SETH), will conduct and disseminate cross disciplinary research on major educational issues, with a goal to improve educational opportunities for historically underserved students.
In addition to supporting research projects, the institute will issue research briefs and reports for educators, policy makers, and journalists.
"The field of education is too complex to be seen through a narrow lens," says Sarah Irvine Belson, executive director of the institute and SETH dean.
"We need the investment of great minds and rigorous research," she says, "to improve the quality of education to prepare future generations to be engaged global citizens."
Questions regarding this event may be directed to Mimi Fittig, director of special events & museum membership.
Adapted from "Interdisciplinary Institutes," in the Fall 2010 issue of Connections magazine.