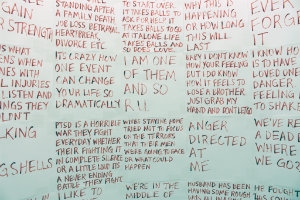 SARAH DALE'S ART has taken her in many directions, from jewelry design at New York's Fashion Institute of Technology, to graphic design at a DC ad agency, to an online family-run artisan business. But during her time at AU, she discovered her most meaningful direction yet—giving voice to the sacrifices and suffering of military spouses.
Dale (MFA studio art '16) is herself the spouse of a com- bat war veteran. Her husband, Missouri National Guard Staff Sergeant John Dale, was deployed in Bosnia and Iraq and was subsequently diagnosed with Post Traumatic Stress Disorder (PTSD). During that time, Sarah says she developed symptoms of secondary post traumatic stress.
Being a military spouse has affected Dale's life in every way, and in 2014 she decided to explore her experience through art. In a departure from her usual paintings, sculptures, installations, and photography, she found herself drawn to conceptual art to tell the stories of military spouses. In her first project, the performance piece Support Our Troops, Dale dragged her husband's box of army gear everywhere she went, to represent the burdens carried around by military spouses. She then turned to Instagram and started collecting military spouse posts. The resulting virtual exhibition, VeteranSpouses, features powerful snapshots of the spouses expressing their true feelings about war and life back home.
"Many artists start from a more formal, detached place," said Luis Silva, associate professor of art. "But Sarah begins at the place that interests her the most: community and voice. It's exciting to see art begin there and then contribute to a dialogue that means so much to her, and to so many others."
Dale's work has been shown in various group shows in the United States and internationally, including the American University Museum at the Katzen Arts Center and the Hilbert Raum Gallery in Berlin, Germany. Last summer she participated in the Glogau Artist in Residence pro- gram in Berlin. She has received the Folds of Honor Foundation Caregiver Scholarship and the Hope for the Warriors Caregiver Scholarship for her graduate studies, among other awards.
Dale says she appreciates the diverse art and innovative ideas she's seen in the Studio Art Program at American University. "People come here with many different perspectives, and they're doing all kinds of art," she says. "I love that the art we experience here is also a reflection of the professors and visiting artists. The program produces well-rounded students, artists, and individuals."
For now, Dale plans on continuing her work to give a much-needed voice to military spouses. Quoting from the Broadway show Rent, she says, "The opposite of war isn't peace. It's creation."