On Campus
Science and Art Mix in Annual Halloween Bash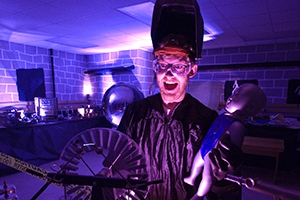 A Haunted Campus 
Something wicked haunted the AU Sports Center Annex on the evening of October 24th. The Society of Physics Students, along with other members of the AU science departments, partnered with the AU Rude Mechanicals to host the second Science Spooktacular.  
More than 200 students attended the spooky walkthrough, which featured all the trappings of a haunted house, with special science-based exhibits to add a uniquely educational twist, including a laser maze, an alien crash site, and a blood-spattered crime scene, among others. 
"The Spooktacular was a huge success," said student organizer Dhanesh Krishnarao (BS physics and mathematics '15). "Collaborating with so many science departments, and other student groups including the Rude Mechanicals, seemed like it could be a logistical nightmare. But everything came together seamlessly at the end. Several people were saying how they loved it while walking out the door, while others literally ran out the exit, too spooked out to say anymore!" 
Bringing the Experiments to Life 
The Spooktacular is both fun and intellectually engaging, according to the students engaged in its planning. It contributes to the sense of community at AU, and it also serves as a form of outreach and education for students and community members without a background in science.  
The science departments provided the installations, while the Rude Mechanicals brought zombie tour guides and make-up artists to the mix. They also brought in lighting equipment to help create the appropriate Halloween atmosphere.  
"We decided to take part in this event because one of the most important things about the Rude Mechanicals is the strength of our community," says Ryan Mays, director of public relations for the group. "The Science Spooktacular provides us with an entirely new opportunity. Not only does it provide our community with a new and different way to have fun together, but it also expands our community to that of the physics department."  
Physics professor Nate Harshman agrees. "The partnership with students from the Rude Mechanicals is great because, although we often think of the sciences and the arts in opposition, there is no need for them in conflict. Both are intrinsically social activities that engage with technical and aesthetic issues through creative production."  
Blending Art and Science 
"The blending of science and art is invaluable. Art is the medium by which humans as a species communicate emotionally. Science is the medium by which we understand the world around us," says Mays. "By combining the two we allow ourselves to access the emotional beauty of the world around us and share it with others. Also it allows us to dress up like zombies and run around a physics building, which is pretty cool." 
Harshman adds that all disciplines can be enriched by interaction and discussion. "The arts explicitly engage with the processes and challenges of communicating complex and contradictory ideas to a diverse audience. As scientists, I think we can learn much from them about how to do this effectively. Also, I bet Shakespeare's keen insight into what makes us human is what allows the Rude Mechanicals to make such awesome zombies."