Alumni
Danielle Goldberg: Teaching and Life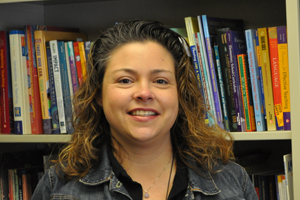 When Professor Danielle Goldberg, CAS/BA '94, CAS/MA '97, came to American University as an undergraduate, the world of teaching and education had not yet found her. "I knew I liked interacting with people," says Goldberg, "and I thought the way I would do that would be through psychology, specifically child psychology." But as Goldberg worked her way through a psychology major, she began to realize that teaching was the way she wanted to pursue her love of working with children. "I decided that I didn't want to just work with one child at a time," says Goldberg. "I wanted to be able to reach as many children as I could."
Goldberg, who also serves as the School of Education, Teaching, and Health's coordinator of field placements, teaches the introductory education course Schools and Society and coordinates SETH's Field Experience course. She began her career as an elementary school teacher in Montgomery County, Maryland, teaching a wide range of grades at Rock Creek Forest, Rosemary Hills, and Whetstone elementary schools. "My training at AU, specifically the teaching methods block and student teaching, were absolutely invaluable," says Goldberg. "I didn't realize how valuable they were until I was already in a classroom of my own."
However, while Goldberg felt ready for the classroom, she learned a great deal more about the realities of the job while in the position. "One experience that really changed me the most as a teacher occurred right after I came back from maternity leave," she says. "I was dismissing my students for the day, and I was exhausted because I was a new mom and I was back at school full time. It was a Friday afternoon and I went to sit down at my desk just to take a deep breath as all the students left to go home for the weekend.  One girl came up to me and was sure to say good-bye and to tell me to have a good weekend. Monday morning came and she didn't come to school."

The girl in Goldberg's class had been killed in a car accident over the weekend. "I think that had the biggest impact on me in so many different ways," says Goldberg. "It made me realize that every moment I am in that classroom, I am there for those students, and I don't have the luxury of sitting down and taking that deep breath no matter how I'm feeling. I need to be there for them, all the time, until the door is closed and the last student is out." After that, Goldberg made sure to say good-bye to all of her students every day.

Goldberg never doubted that she was in the right profession. "I love watching those light bulbs go off. I love being able to reach the children who come to me from previous years who were said to be particular challenges," she says. "And there were some days when I wanted to cry, or pull my hair out. But I was able to wake up the next day and start fresh."
Goldberg's love for teaching made it particularly hard for her to balance her career with her family life. After the birth of her son, Goldberg decided to become a part-time teacher. "I loved Rosemary Hills, the school where I was teaching at the time, but they didn't have any part-time positions," she says. "Part of this balance was that I had to leave the place that I loved working."
She soon moved into a part-time academic support position at Whetstone. Goldberg says that even though her official days may have ended at noon, she continually found herself at school as late as three in the afternoon. "And that was okay," she says. "Teachers always put in time beyond their hours. And I was still able to leave and go get my son and take care of things at home, which as a full-time teacher would have just been too hard for me."
When Goldberg gave birth to twin girls, however, she realized she had a decision to make. After taking three years of childcare leave, Goldberg had to decide whether to go back into the classroom or permanently resign from Montgomery County Public Schools. The day before she would have had to submit a decision, Goldberg found a four-hour per week kindergarten support position at Twinbrook Elementary School. "That was a really difficult year," she says. "I was so disconnected from the building, the children. Being there once a week was not very conducive to building a relationship with the students. It was after that year that I decided that at that point in my life, I couldn't give teaching the attention it deserves."
After seven years dedicated to raising her children, Goldberg knew that while she wasn't ready to go back into the classroom, she wanted to get back into the education world that had so enthralled and fascinated her. After meeting with SETH dean Sarah Irvine-Belson, Goldberg was hired to teach Principles of Educational Assessment and Evaluation to Teach for America corps members; later she was hired as an adjunct professor for undergraduates and as SETH's coordinator of field placements.
As field placement coordinator, Goldberg oversees and coordinates the student teaching and practicum experiences as well as the licensing of pre-service teachers at AU. "I wanted to be involved with helping future teachers become the best that they can be," she says.
Goldberg says that getting the most out of field placement experience means student teachers should not be afraid to jump in and get involved in the classroom from day one. "You have to show the cooperating teacher that you want to be there and are ready to take it on. Whether that means working with a small group or identifying students who need extra help, you have to be willing and ready to get involved," she says.
"I have enjoyed seeing the excitement of students in their student teaching experiences who love the cooperating teachers they're working with and who have been made to really feel like a part of the classroom," says Goldberg. "It has been so rewarding to see students who are not only learning, but are truly enjoying and loving their experiences. Students who will one day be phenomenal teachers themselves!"