Education
SETH Professor Wins Mellon Grant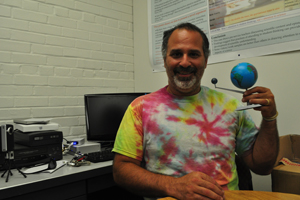 When School of Education, Teaching, and Health (SETH) professor Daniel Levin taught high school science in the late '90s and early '00s in Maryland, he was often frustrated by how much required testing focused on discrete factoids instead of big ideas. "I was constantly saying, 'I want my students to be able to think,'" says Levin. "There's very little out there that supports teachers who support students' thinking in other ways than how to succeed on a test."
Starting in September, Levin will work to change that phenomenon. With the help of a Mellon grant from the College of Arts and Sciences, he will collaborate with the D.C. Math, Science, and Technology Public Charter High School in a project that will serve as a pilot for a larger, forthcoming project with many D.C. area schools.
Levin's major goal is to identify instances in which science students demonstrate authentic scientific practices in the classroom: by arguing with evidence to support a hypothesis, theorizing about the natural world, or reasoning with the use of models. To do this, Levin will help set up video cameras, tripods, and wireless microphones in four classrooms. He and the classroom teachers will then review the tapes and identify instances in which students utilize scientific practices, such as reasoning.
Because he will become so embedded in the community of the charter school, Levin says he wants to understand the structure and dynamics of its science department. To do this, he will attend school and science department meetings, in addition to the time he will spend with teachers reviewing the videos. "It will be sort of an ethnographic study in which I will learn how this group of people work, what they share, what separates them from other groups, and what binds them together in common," says Levin.
Additionally, Levin will help the science department revamp their science fair. With the help of his former high school teaching colleagues, Levin will hold a 4-day institute in July at the charter school, tentatively called the 'I Wonder…' project. Here students will discuss their understandings of science and pursue a non-traditional science fair project—"one that isn't necessarily constrained by the scientific method," says Levin, who argues that science fair projects can often become "mindless exercises" in which students pick a question that is easily testable with the scientific method and don't theorize about topics that interest them.
"What I really hope is that, first of all, a community comes together around issues that are accountable to students' scientific thinking—not just how they mark off things on a multiple choice test," says Levin. "That, in turn, impacts the culture of the science department and the culture of the students' classroom and learning experience for, ideally, a very long time."