Arts
SheshBesh Promotes Cultural Respect through Music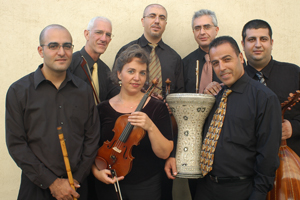 Musical ensemble SheshBesh promotes a spirit of peace between various cultures and religions around the world through its Jewish and Arabic comprised company. Thanks to the Center for Israel Studies and other sponsors like Susan and Samuel Lehrman, Department of Performing Arts Music Program, Speigler Endowment Fund, Embassy of Israel, and American Friends of the Israel Philharmonic Orchestra, the Israeli ensemble is scheduled to bring their valuable music and lessons to American University on April 5 and 6 for a special performance and master class.

Derived from the Israeli Philharmonic Orchestra (IPO) in 1997 by principal flautist and world-renowned soloist Yossi Arnheim, SheshBesh was created to show the world that music can transcend the aggression between conflicting cultures and religions. Arnheim assembled members of the IPO and other talented Arabic Israeli musicians to form the ensemble, which also serves as a cultural ambassador.
The name SheshBesh comes from a Turkish game similar to Backgammon, which, according to Arnheim, "is a game everyone plays in the Middle East, regardless of background or race or religion or age. It is a game that brings people together," a concept very much in line with the ensemble's objectives.
Acting Director of the Center for Israel Studies Laura Cutler believes SheshBesh comes to campus at a time when the Middle East, engulfed in turmoil, needs a more positive representation of its culture and people. "The multicultural nature of the band and the music they perform seem to fit with the multicultural environment at AU," she says. "The goals of the ensemble, with regard to finding bridges to unite people, mesh with the cooperative spirit I feel at American University."
In addition to their lessons in peace, SheshBesh offers the community a rare chance to see and learn from such a highly skilled group of international musicians. After a free concert on April 5, SheshBesh will teach a master class in the Department of Performing Arts from April 6 to discuss the ideology behind the ensemble, its origins, and characteristics of Middle Eastern music in comparison to European classical music.
SheshBesh's performance presents an abundance of learning opportunity for attendees whether they are interested in culture, music, or a combination of both. "I'm excited that the ensemble will bring a mixture of Middle Eastern and classical music that is unique," says Cutler. "Some of the instruments, like the oud—a pear-shaped string instrument commonly used in Middle Eastern music—may be unfamiliar to many people."
The performance on April 5 begins at 6:45 pm in the Katzen Arts Center Abramson Family Recital Hall, and is free and open to the public. Those interested in attending the class on April 6 at 12:45 pm should make reservations with Nancy Snider, Director of the Music Program, at nsnider@american.edu.