Internships
CHRS 2011 Summer Interns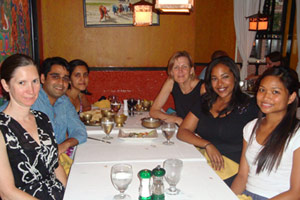 During the summer of 2011, AU's Center for Health, Risk, and Society (CHRS) offered several internship opportunities for young researchers to work on its multiple projects. Read these researchers' first-person accounts below:
 
Christleen Casem
San Jose State University
During my internship at the Center on Health Risk and Society (CHRS) at American University, I worked on a project called Structures, Health and Risk among Reentrants, Probationers and Partners (SHARRPP), the data for which is being collected in New Haven, Connecticut. My duties included researching trends in HIV/AIDS prevalence and incarceration; going to community meetings, conferences, and committee hearings in DC to gain a better understanding of the impact of HIV/AIDS in the community; and to see if it will be feasible to conduct a similar study in DC.  I also worked on "Blunt Generation"-a project that is a subset of SHARRPP. For this project, I researched the literature to understand the unique characteristics of a group of drug users who disdain the use of "hard" drugs and only use marijuana to prevent themselves from becoming addicted to harder drugs such as crack/cocaine, and to ease the stressors associated with a childhood that was often plagued by the consequences of their parents' crack/cocaine addiction. I also conducted analyses using SHARRPP's quantitative data to examine the sexual risk behavior patterns of the blunt generation that puts them at greater risk of acquiring HIV/AIDS despite their non-injecting drug use habits. I found my overall internship experience at CHRS very valuable as it expanded my knowledge on the various intricate aspects of the community and it allowed me to work on a project that I am passionate about.
Maab Ibrahim
Duke University
I researched the perceptions and implications of HIV testing, the current testing programs in Washington and the implications of these interventions based on studies across the country. The work I did identified innovative programs, key players, and institutional networks that may be necessary for future research studies on HIV/AIDS in the DC area. I found the SHARRPP Project very fulfilling because it could potentially lead to drug policy reform. The most interesting aspect of the work was learning to navigate the research process and watching such a large-scale study unfold.
Nicolette Kalic
University of California, San Diego
I was awarded the NIDA Summer Research Fellowship for Underrepresented Students and worked alongside Amy Smoyer and Dr. Kim Blankenship of the SHARRPP (Structures, Health and Risk among Re-Entrants, Probationers and Partners) team at the Yale School of Public Health .  As a SHARRPP intern, I have learned about qualitative research methodology.  Specifically, I conducted a literature review about qualitative methods and used NVivo software to code SHARRPP pilot data about trauma and violence.  In addition, I have used the skills that I have acquired as a Communications major at UCSD, with a minor in Global Health, to bring forth new dissemination ideas to the study.  I examined existing resources about the dissemination of study results and designed a brochure that will be used in study outreach efforts.  My communication skills were also used to help develop and utilize the Access database that is used to screen study participants over the telephone.  I was able to be a part of the outreach work done for our study in New Haven, relevant to the effects of the criminal justice system, the re-entry process, and its relationship to HIV risk.  This internship has given me great insight to the importance of qualitative studies, as well as a passion to continue in the field of HIV research.  I have been introduced to so many amazing, successful colleagues at Yale thus far, and am so fortunate to have been given this opportunity to see the work that our future is putting forth.  I can only hope to work with such a great network of people once again, and will use this experience to set high standards for myself in my future goals of education and career choice. 
Kristen Lee
Duke University
I had the pleasure of interning at the Center for Health, Risk, and Society at American University this summer and working on Project Parivartan. I applied my sociological imagination to analyzing life history interviews with sex workers in India, working with the project's large quantitative data set, working on a South Asian Sex Trafficking review and updating a structural intervention annotated bibliography. I consider myself very lucky to have worked with the CHRS team and feels that the internship this year and the SHARRPP internship last year have been incredible stepping stones, preparing me for my sociological passions and interest in health from a social global health perspective and to take initiative in my own research.