Alumni
Alumna Storelli Advances in Sociology and Aging Project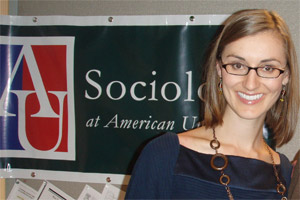 Elizangela "Eliz" Storelli , CAS/MA '09, traverses the areas of global sociology, gender and sexuality, and statistics, all while focusing on her main interest: aging—especially sociology's influence in framing it on an international level.
This spring, Department of Sociology students, while attending the Eastern  Sociological Society (ESS) meetings in Boston, met up with Storelli, who  has been immersed in her doctoral studies at Boston College since 2009.  She discussed her own student project, titled: "Aging in Place: Media  Texts and the Invisibility of the Gendered Caregiver," which was supervised  by faculty Jill Niebrugge-Brantley and Russell Stone and eventually presented a paper based on the thesis at the Thinking Gender Symposium held at UCLA. 
"I've  definitely been keeping busy. The ISA/ASA presentations were a great experience," says  Storelli, who presented two papers at the ESS meetings on global aging and  grandparent caregivers. She also presented at the International Sociological  Association's (ISA) World Congress in Sociology, in Sweden, on "Aging and Development in Latin America" and the American Sociological Association meetings (ASA), in Atlanta on "The Price of Grandmotherhood: Custodial Grandmothers Sharing the Costs of Motherhood."
Several projects help her expand on her training and research on aging. "I received a summer research grant from the Boston College's sociology department to work on independent research over the summer and am continuing work on that. The project involves investigating various facets of aging and development in Latin America, specifically examining how different development elements/characteristics affect well-being among older adults in seven countries. I have just finished data analysis and will hopefully start writing soon. The goal is to send it to a journal in the spring," she says.  
She is also working on an article on family care and aging in Latin America, looking specifically at how economic development and demographic changes have affected the ways in which older adults care for their aging parents. 
She balances writing projects, from book chapters to peer-reviewed articles, while working on a book chapter on class and aging due out in 2011 in addition to teaching a class next semester in undergraduate statistics.
 "AU prepares students for doctoral work," says Storelli.